Dunlap named principal/president of Catholic Central High School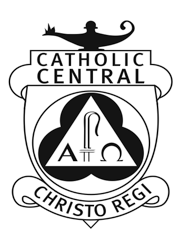 Press Release
Peter Dunlap, Dean of Student Life at St. Albert the Great School in Kettering, has been named Principal/CEO of Catholic Central High School in Springfield, effective July 1. This appointment was made by Archbishop Dennis M. Schnurr following a national search and the affirmation of the Principal Search Committee.
"Mr. Dunlap is an experienced educator who brings great passion and energy to the job," said Dr. Jim Rigg, Director of Educational Services and Superintendent of Catholic Schools for the Archdiocese of Cincinnati. "Mr. Dunlap has served as a teacher of science, social studies, and religion, and has acted as Director of Camp Invention at St. Albert.
"Mr. Dunlap is an energetic leader who is known for his community-building and strategic planning skills. He possesses a magnetic personality, and has worked tirelessly to ensure a strong academic and religious education for students in his school. Mr. Dunlap is a man of deep and sincere faith who lives out a genuine vocation to Catholic school leadership."
He holds a Bachelor's Degree in Education from Ohio University and a Master's Degree in Educational Leadership from the University of Dayton.
As previously announced, Catholic Central will shift to the "Principal/CEO" model next school year instead of employing both a president and a principal. Dunlap will replace both Dr. Ken Britt, president, who has accepted employment at Marion University, and Patrick Finneran, upper school principal, who will be moving to South Carolina to serve as a Catholic school principal.
"I would like to thank Dr. Britt and Mr. Finneran for their great dedication to Catholic Central," Rigg said. "I am fully confident that Mr. Dunlap will continue the outstanding momentum established under the current administration. Priorities for Mr. Dunlap will include completing the capital campaign, overseeing the scheduled building project, and assuring a continuation of the strong education provided by Catholic Central. I know that Mr. Dunlap will be a great asset to Catholic Central."
The Roman Catholic Archdiocese of Cincinnati is the 38th largest Catholic diocese in the country, with almost 500,000 Catholics, and has the sixth largest network of Catholic schools in terms of enrollment.  The 19-county territory includes 214 parishes and 114 Catholic primary and secondary schools.