Earth Connection: Sisters of Charity Teach Girls About Spirituality & Sustainability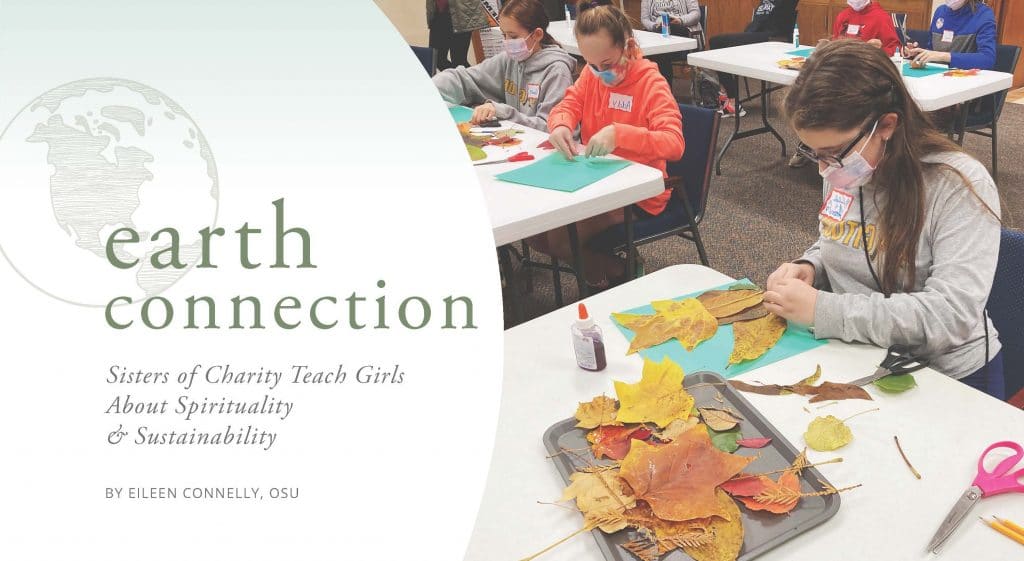 Area Girl Scouts of all ages have been learning about our relationship to God's creation and how to care for it through the fun and educational programs at EarthConnection (EC). Directed by Sister Caroljean Willie, SC, EarthConnection is a ministry of the Sisters of Charity of Cincinnati and a center for learning and reflection. It seeks to integrate spirituality and sustainability through programs in sustainable agriculture, alternative energies, eco-justice and eco-spirituality.
In recent years, Sister Winnie Brubach, SC, master gardener, led the Sisters in examining programming to expand the center's offerings. Her administrative assistant, Sue DiTullio, suggested helping the Girl Scouts earn their outdoor badges and patches.
Sister Willie embraced the idea with enthusiasm, saying, "The earlier we can expose children to the care for creation, the better. We need to show them the beauty of creation. It's important for them to understand our world is in peril and that we really do need to take care of what God created."
As of late February, about 20 Girl Scout troops visited. Weather permitting, their time at EC began with an age- appropriate nature scavenger hunt, searching for bugs, leaves, and more. Sister Brubach then led a tour of the garden, during which the girls learned about the types of crops grown there and how donated produce reaches the Good Samaritan Free Health Center in Lower Price Hill.
The scouts also heard a presentation about solar and geothermal energy and the EC facility, which was constructed with recycled materials, including carpet made from recycled soda bottles, a curved wall constructed out of aluminum cans, and tiles made from recycled glass. The girls discovered that even the building's furniture was made mostly from recycled materials.
Visiting Girl Scouts then do an art activity using recycled or natural materials. Recent troops fashioned animals out of fall leaves and made colorful vases using recycled bottles, tissue paper and a variety of flowers. Another troop created environmental art from Gelli plates and a variety of natural objects collected during their scavenger hunt.
"I've enjoyed working with the Girl Scouts immensely," Sister Willie said. "They really get into the activities and seem to enjoy them. I've been impressed how even the younger girls are on top of things like composting and recycling and will say, 'we do that at my house.' Young people today are very concerned about caring for the environment and I think it's important for them to have opportunities like this. It's important for them to see God as the author of creation and how incredible it is that creation is ongoing."
Erin Andriacco leads the sixth grade Cadette troop at St. Antoninus School. She said they plan events that are educational, fun, age appropriate and affordable, all of which were components of EarthConnection's program. "Working with Sister CJ was great," Andriacco said. "She was so engaging and informative. Our girls really enjoyed the experience. They learned what being a steward of the earth means and ways they can help."
Noting that her 13 participants fulfilled the Outdoor Artist Apprentice badge requirements, Andriacco said, "I'd love to take them back to do another program and badge, perhaps in a different season when the gardens are in full bloom."
Melissa Tepe, also a troop leader at St. Antoninus, said her two daughters benefitted from the EC experience. Ellie, now in the eighth grade, first visited during second grade and then again this school year, while Gwen, a current sixth grader, was there in November. In expressing her appreciation for EC programming's creative approach, Tepe noted that, in addition to learning more about caring for creation, the girls also gained insights into "how we can take better care of each other."
For more information about EarthConnection and the programs offered, visit www.scearthconnection.org.
This article appeared in the April 2022 edition of The Catholic Telegraph Magazine. For your complimentary subscription, click here.