Editor's Note: Everyone wants to be the first with the news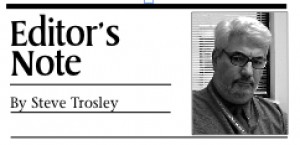 March and April used to bring a flood of phone calls to the office of an editor in the upper Midwest, where I spent much of my career.
I used to call it the great battle of the bobbin' robin. We would get literally scores of calls from people wanting recognition for seeing the first robin of spring. Some would come to the front counter and want to visit with an editor or reporter about it. Some would mail us photos, occasionally notarized so they would get credit for being first.
I once did a feature on someone who came in every year and noted how he kept a record of each year back into the 1940s and how he had even named birds he recognized in his neighborhood.
So passionate were people about being first to see this famous harbinger of spring that sometimes they would get nasty when you told them someone else had the honor.
It was not like they were going to win a contest or anything.
That was 20 years ago and more. In latter years, you would get emails as well as phone calls. Then it was just emails.
Now, they take a video and post it on Facebook or tweet it on Twitter (or do they twitter it on tweet?) and don't even bother calling the newspaper.
People like to be first with the news whether the news is good, bad or indifferent.
So we can easily imagine the mood of the women in the Matthew's Gospel (28:8) when the angel told them that Jesus had risen from the dead as foretold in Scripture. Now that would be a reporter's dream — or to be an angel and bring the news right from God.
Which is probably one of the reasons God uses angels. It's hard to imagine the human heart being able to endure that much excitement.
There was much excitement in The Catholic Telegraph offices March 13 as white smoke appeared on our live-streaming Internet feeds of the video of the chimney on the Sistine Chapel and of course of the crowds gathered below.
The next hour seemed like an eternity as we waited to hear the official announcement. We actually had the name of Cardinal Jorge Bertgoglio, Pope Francis,  on www.thecatholictelegraph.com within a minute of the announcement, thanks to our resident Mr. Ready Megabyte, John Stegeman.
The next morning, we were getting requests for photo downloads and portraits suitable for framing. (We supplied the names of our advertisers who sell such things to the callers.)
Pope Francis surprised a lot of people in the first few hours of his papacy and I have a suspicion we're in for a lot of surprises over the next several months and years. I pray he can sustain the energy it will take to live up the expectations he will burden during that time. Read about it in this edition and in the ones to follow in the months ahead.
Meanwhile, let an old editor play old editor: It's not Pope Francis I, it's Pope Francis. He can't be the first until there's a second. That's how it works.
+ + + + +
Also in this month's edition, read about an unusual ministry that passed through town with the circus. Yes, there are two Sisters who minister to circus performers and workers.
We also have the first of a three-part series on the Archdiocesan Vital Parishes project, which will give you an important perspective on how pastoral regions are formed and the challenges faced by our pastors in the years ahead.
John Carr, formerly of the U.S.Congress of Catholic Bishops, will be in town in April to help mark the 50th anniversary of Blessed John XXIII's landmark encyclical, Pacem in Terris — Peace on Earth.
Get to know some of the Archdiocese's newest Catholics with some profiles on RCIA candidates who are going to be baptized on Easter Sunday.
You can also read about the most recent Pastoral Council meeting, some things happening in our Catholic Schools and many stories about your fellow Catholics in the Archdiocese of Cincinnati.
And The Catholic Telegraph family wishes you and your family a blessed and happy Easter.
+++++++
 Trosley is editor-in-chief of The Catholic Telegraph.