Eight Admitted to Candidacy for Holy Orders at seminary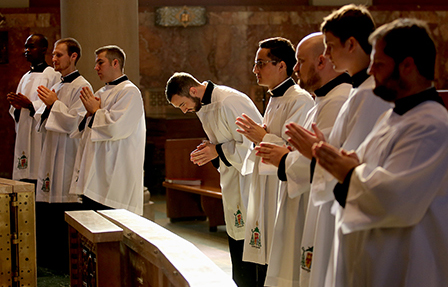 Eight men were accepted by Archbishop of Cincinnati Dennis M. Schnurr as candidates for Holy Orders in a ceremony at Mount St. Mary's Seminary  Dec. 8.
The men publically declared their commitment to a program of formation for service to God and to the Catholic Church as ordained ministers on the Solemnity of the Immaculate Conception of the Blessed Virgin Mary.
"This is analogous to the engagement of a married couple. It elevates our level of commitment as we wear our clerics and go before the altar, the archbishop and the Church and take this very significant step toward the ordained priesthood," said Andrew Reckers, one of four from the Archdiocese of Cincinnati admitted to Candidacy.
The men accepted as candidates for the Archdiocese of Cincinnati are Christopher Mark Komoroski, Benson Lotiang'a Lokidiriyo, Andrew Michael Reckers, Jeremy Stephens Stubbs.
For more, including the full list of those accepted as candidates, visit Mount St. Mary's website here.