End the Year of Mercy with a donation to CCHD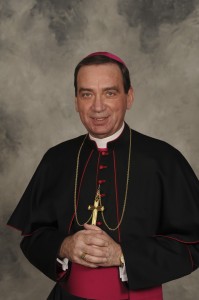 My Dear Friends in Christ,
On the weekend of Nov. 19-20, the feast of Christ the King, Pope Francis will close the Holy Doors of Mercy at the Vatican, and we will do the same in the archdiocese at our own cathedral. While this symbolic gesture will conclude the Extraordinary Jubilee Year of Mercy, it should also inaugurate a refreshing future for all of us in which the ministries of mercy become more ordinary in our lives. It is fitting, then, that the Nov. 19-20th weekend is our annual collection for the Catholic Campaign for Human Development (CCHD).
Through CCHD, we show mercy, not by providing a handout, but by providing a life-changing hand up. For instance, the St. Vincent de Paul Cincinnati District Council's Reentry Program, started with CCHD funds, offered support and new opportunities to 110 formerly incarcerated individuals. As a result, not one of them has been convicted of any new crime! Furthermore, over a hundred Vincentians are now working with these returning citizens, mentoring them as well as deepening their own faith through their new found relationships. Additionally, among the many other outcomes, agencies in our archdiocese that received CCHD grants last year:
• Found jobs and provided job advancement skills to 234 people through cooperative businesses, job placement and employment readiness trainings in our urban and rural communities;
• Trained 380 youth through leadership and healthy life skills classes;
• Improved low-income neighborhoods through eradicating vacant properties, increasing public services, and reducing crime;
• Won back over $200,000 in wrongfully withheld wages for low-income workers.
Your CCHD dollars are supporting this kind of work in Cincinnati, Dayton, Springfield, St. Marys, Brown County and elsewhere across the archdiocese.
We send two-thirds of this collection to the national CCHD offices at the U.S. Conference of Catholic Bishops (much of which comes back to fund organizations operating in our archdiocese). The remaining one-third of the collection is granted to agencies in our own archdiocese by way of recommendation of our own archdiocesan CCHD Committee. A smaller portion supports the U.S. bishops' Black and Indian Mission Fund, anti-poverty education efforts in our parishes and schools, and administration of these funds. It is our strict policy that organizations that receive CCHD funds must not participate in or promote activities that promote abortion, same-sex marriage, the death penalty, affronts to human life and dignity, or any positions contrary to fundamental Church teaching. You can learn more about CCHD's work in the Archdiocese at www.catholiccincinnati.org/socialaction.
Thank you for your generous support for CCHD on the Nov. 19-20th weekend. Through it, you are showing mercy by changing lives for years to come.
Sincerely yours in Christ,
Most Reverend Dennis M. Schnurr
Archbishop of Cincinnati