Faith For Life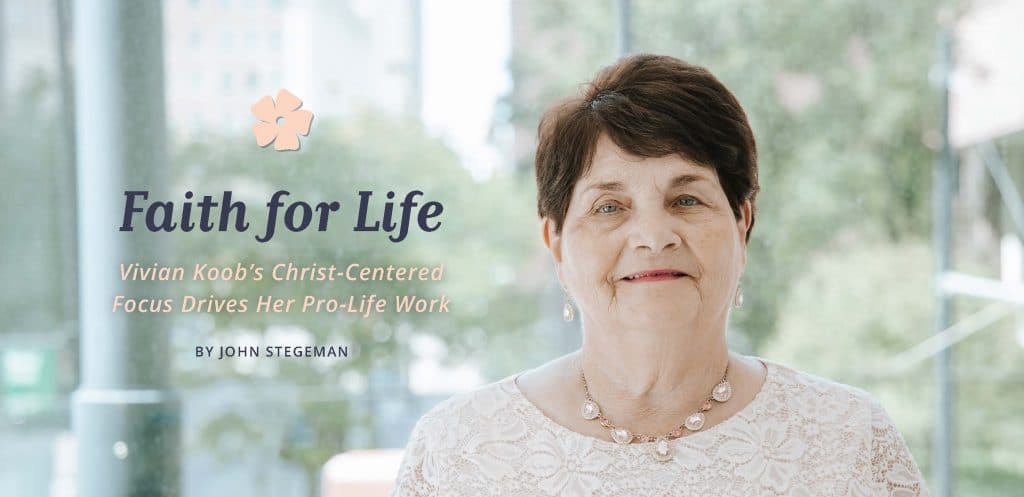 Why do you support Church teaching on life issues? Perhaps becoming a parent opened your eyes to the reality of life in the womb. Maybe a loved one's end-of-life struggle showed you the dignity of life at all stages. There are many good reasons to choose.
For Vivian Koob, founder and Executive Director of Elizabeth's New Life Center, the reason is Jesus."I think everything that I do is because of my belief in Christ," she said. "I have always tried to be a good example and Christian witness, reaching out to the poor and vulnerable and those who have less. Being Christ-centered is just part of who I am, and who most people are who work for Elizabeth's New Life Center (ENLC). Certainly, we're a Christ-centered ministry."
ENLC operates eight pregnancy resource centers in southwest Ohio.
Koob's work with ENLC was part of what earned her the Archdiocese of Cincinnati's 2020 Respect Life Award, but she is involved in the wider pro-life movement as well. Koob serves Queen of Martyrs Parish in Dayton as Respect Life Coordinator, has adopted special needs children, worked with the Ohio Disability Support Council and sponsored talks on end-of-life care. She sees herself as one worker among many for the pro-life mission.
"We all have the same heart," she said. "We believe Jesus calls us to this mission field where it is a never-ending battle to support the sanctity of human life. Our culture has turned so far away from the Judeo-Christian values we were founded on and certainly the abortion issue is front and center."
The battle over cultural values and protection for the unborn swings back and forth. Progress can be made under one administration, and then reversed in the next. Koob isn't disheartened though, choosing to look at the "little miracles" that happen in her work on a daily basis.
"I often wonder why can't God just come and do something? But then He uses our hands and our feet and our voices and our passions and finances, or whatever we have, to accomplish the good we can," she said. "There is a lot of positive that happens in the work that we do. We see lives changed every day. We see women who were blind to the reality of what they were carrying inside of them and then have their eyes opened up and then fall madly in love with their baby. That's just the most precious thing."
Koob also encourages others who support the Church's teaching on life to get involved. "So often people just throw up their hands and give up," she said. "We're trying to show them you can do a lot of things in a lot of different ways to promote life."
The other motivator that keeps her going is the same thing that got her started in the movement – Jesus. "I think [daily Mass] really helps me," Koob said. "I probably couldn't do this work without the sacrament of the Eucharist holding me up and keeping me grounded."
This article appeared in the October edition of The Catholic Telegraph Magazine. For your complimentary subscription, click here.