Father Angelo Caserta turns 100 today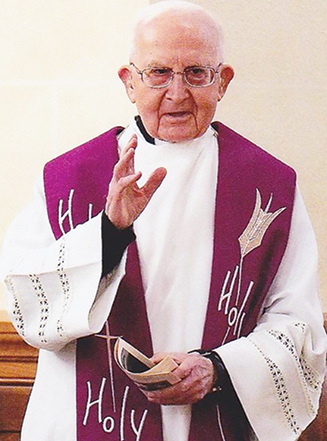 Father Angelo Caserta celebrates his 100th birthday today. Father Angelo was born in Piqua Ohio and attended Saint Boniface school. He was ordained on February 24, 1945.
Here's a reprint of Walt Schaefer's Article from April 2015:
Father Angelo Caserta, at 96 the oldest active priest in the Archdiocese of Cincinnati, called his priesthood a blessing from God.
Prior to celebrating his 70th anniversary Mass March 1 at St. Boniface Church in his home town of Piqua, Father Caserta said, "The Lord has taught me the great love that Christ and the Eternal Father have for people … to allow a priest to be the instrument of God's love to His people and make Him alive in them and … experience that God is loving them. I have seen that so many times, in fact all of the time."
Father Caserta was ordained Feb. 24, 1945, by then-Archbishop John Timothy McNicholas. He remembers the day well: "The temperature on that Saturday was a high in the 70s – in February. It was sunny and pleasant. When I was growing up, spring started in the middle of February," he said.
Is there a secret to his longevity?
"My secret is the good Lord," he said. "The Lord gets all the credit. I'm the only classmate surviving in my class. Not many average that milestone. There may have been some of the old-timers who did. You know, it's a celebration of God's goodness. How He could choose someone like me and take care of me for 70 years while doing His work in the priesthood."
During his priesthood, Father Caserta served only two parishes, spending most of his years at St. Gregory Seminary, former college seminary of the archdiocese, which closed in 1980; and at Mount St. Mary's Seminary.
"I was born in Piqua and pastor at St. Boniface. I was pastor of St. Lawrence in Price Hill … from June 9, 1970, through August 7, 1984," he said. "I spent a lot of time at the seminaries. I was at St. Gregory where I was secretary to the rector and then vice rector to the rector. And, I was at Mount St. Mary's as well. In 1967, I was assigned to the business manager job."
He has returned to St. Boniface, where today, "I'm on call … to assist at St. Boniface and at St. Mary parishes. I actually say two Masses on the weekend and then during the week as well I say Masses. I assist at funerals and special celebration of the parishes. I still hear confessions once or twice a week."
Father Caserta reflects with fondness his life of service.
"In the priesthood one of the greatest gifts is that you meet so many wonderful people. I have met so many wonderful people. It is by the grace of God that I'm a priest. I have had so many wonderful blessings. Everything is still in my mind. I remember practically everything," he said.
You're welcome to send a card or note to him at Father Angelo Caserta, PO Box 4008, Sidney OH 45365. Please, no home visits.