Father Fernandes to talk Light is ON For You, confession on 700 WLW at 12:30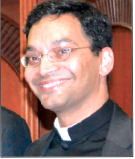 Staff Report
Father Earl Fernandes, Assistant Professor of Moral Theology at Mount St. Mary's Seminary of the West in Cincinnati and columnist for The Catholic Telegraph will appear on the Bill Cunningham Show on 700 WLW radio today, Ash Wednesday, at 12:30 p.m.
With today being Ash Wednesday, the beginning of Lent, Father Fernandes is scheduled to speak about confession and the Archdiocese of Cincinnati-wide initiative The Light is ON For You, which will take place March 3. The Light is ON For You will see every parish and pastoral region in the archdiocese open for confession from 7 p.m. to 9 p.m. that night.
Father Fernandes, who's monthly A Question of Faith column appears in The Catholic Telegraph, has appeared on the Cunningham show before, including a notable appearance last summer to discuss the archdiocese response to the Ice Bucket Challenge.
Posted Feb. 18, 2015