Faith Continues to Flow at Chaminade Julienne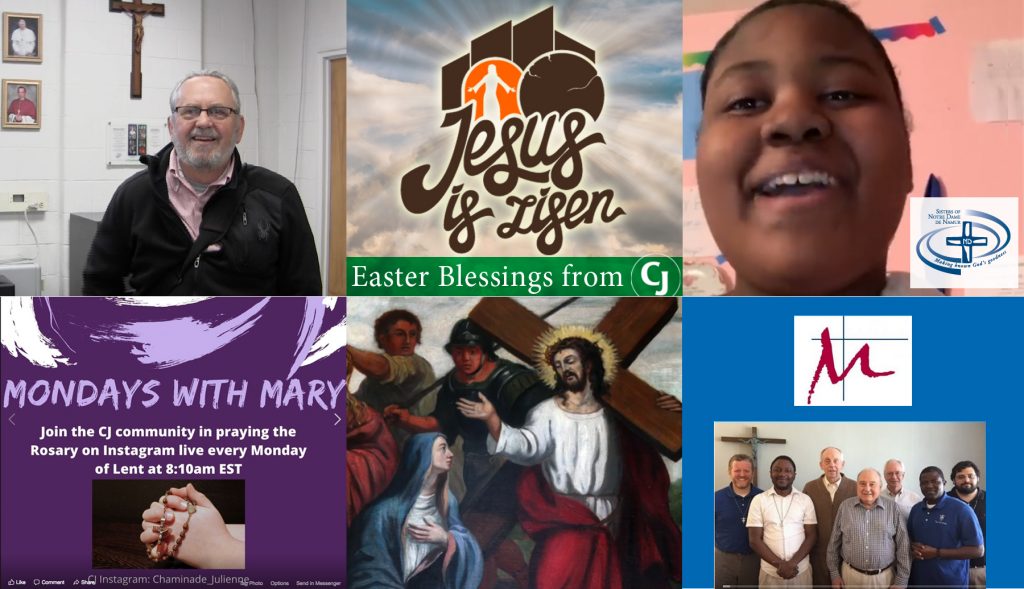 Expressions of faith continue to flow through the Chaminade Julienne (CJ) community even as school hallways stand silent in compliance with state and national officials through the emergency of managing the COVID-19 crisis.
Virtual outreach began in Lent. From live-streaming the Rosary on Instagram, leading the Stations of the Cross on Facebook, posting daily reflections on Twitter, conducting community service
while staying at home, and making phone calls to alumni — faculty, staff and students are making it their mission to stay connected with the community.
In a video message to the CJ community, President Dan Meixner recalled the opening Mass in August when chaplain Father Bob Jones, SM, introduced the community to the theme for the school year – #BeTheLightCJ.
"It was a call for our community, our students, teachers, staff and parents to be the light of Christ for each other in any form that it may present itself – great or small," he said. "Our community drew inspiration from this renewed awareness of lifting each other up even with something as simple as a smile or a kind word."
Campus Community
Much like a typical school day, morning prayer still marks the start of these atypical days but, now, with the help of Google Classroom.
As teachers were packing their things and spending a few final moments together before the school closure, Tina Wagoner, director of marketing and communication grabbed the video camera. Moving from classroom to classroom, she asked teachers if they would be willing to lead the school in prayer and pledge.
"They stopped whatever they had been doing to help," she said. "By the end of that first day, we had nearly 20 days worth of prayer ready to go. … Now, each morning, students, faculty and staff are greeted with the traditional 'Good morning, CJ! Please join us in prayer and pledge,' led by a different person. We've heard how much this 'normal' start to the day has meant to our students, teachers and staff."
Beyond Campus
As a way of praying together, at a distance, the CJ community created "Monday's With Mary," a live opportunity to pray the Rosary via Instagram.
"It's a great way to reach out to our alumni wherever they are," said Elaine Bonner, CJ annual giving coordinator, who joined efforts with Michelle Khawam, assistant director of ministry and service, which led to a member of the alumni leading the Rosary every Monday morning.
"We're in our infancy, but what we really like is that it's an opportunity to unite the CJ community in prayer. It's a wonderful way to use technology to aid in prayer life and being supported by the presence of others praying with you."
Many of those who are praying the Rosary also submit prayer requests to Father Bob who offers them up during Mass. He and the members of the Marianists Community at the University of Dayton have kept the CJ community connected through their invitations to live-stream Mass and services.