Finding Common Ground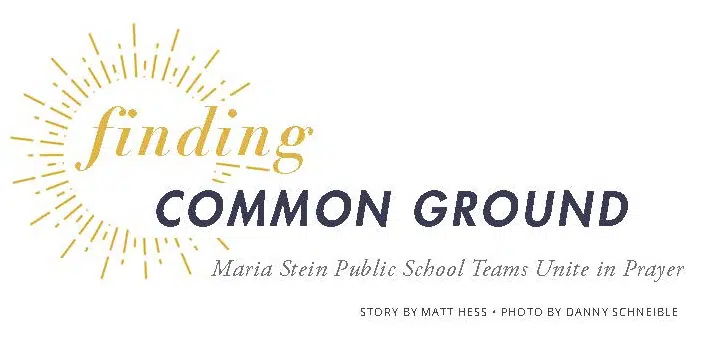 In the Archdiocese of Cincinnati's northern area, the many competitive sports teams foster small-town rivalries that provide good viewing and camaraderie among communities and families (even when cousins play against each other). One such team, the Marion Local Flyers, are noteworthy for both their successful athletic program and how their student athletes remain committed to their faith.
Located in the Northwest 8 Family of Parishes, which includes Maria Stein, Minster and New Bremen, the Marion Local Public School system is centered in Maria Stein, has fewer than 1,000 students in grades kindergarten through 12 and is one of Ohio's top-rated schools. While not a Catholic school, the community is grounded in its faith, and this plays out weekly in churches during sports' seasons.
A tradition of student athletes praying together began in 2000 with Father Emil Labbe, C.PP.S., pastor in Maria Stein. Involved with the youth, he challenged the football team to attend Mass in their jerseys each Friday morning before the school day to ask for God's protection over players in that evening's game and to bring team members together. Players began attending each week—helped by the donuts Father Labbe provided after Mass—and that year the team won the state title, launching the custom of teams thanking God after a big win for the Flyers.
Father Ken Schroeder, C.PP.S., succeeded Father Labbe and still remembers how impressive it was to see the roughly 70 players' section of blue and gold, the school colors, at Mass in Maria Stein's St. John Church. Other sports teams soon joined on different weekdays, thus it became a tradition for many Marion Flyers. Having enjoyed working with the athletes, Father Schroeder stated, "It was wonderful! I was very proud of the students and proud to tell people about their attending Mass as a team."
Teams voluntarily organize their prayer, providing time after Mass for socializing and donuts. Although the school is not involved and no one is told they must attend Mass or pray with their team, everyone is welcome and the chance to pray together often draws non-Catholics to join. Athletic Director, Daniel Koenig said, "We are a very close-knit community, centered around faith and school. We feel this connection has been a tremendous benefit to our success." Community leaders support the athletes' choice to partake in prayer and realize that this student-led initiative helps them form virtues they will carry through life.
A senior member of the Marion Local Volleyball team, Lydia Eifert has witnessed the fruits of team prayer play out for three years. Attending Thursday morning Mass at Nativity of the Blessed Virgin Mary Church in nearby Cassella with her teammates has helped center them each week. Eifert said, "Prayer brings us together with a stronger bond and helps us
be more of a team."
Marion Flyers pray for safety, that no one gets hurt during a match, and reflect on both good sportsmanship and the Christian virtues that can be acquired when working together as a team. In victory, their prayer is one of thanks, that God gave them the skills and ability to work well together. In defeat, they pray to keep moving forward and to rebuild their confidence in their ability for the next time they compete.
As a new fall sports season begins in the Marion Local community, student athletes are hitting the fields, courts, greens and tracks, but they have not forgotten to also spend time in pews. The challenge Father Labbe gave teams over 20 years ago still brings Marion students together.
This article appeared in the September 2022 edition of The Catholic Telegraph Magazine. For your complimentary subscription, click here.