Fr. Richard Klug, Teacher and Pastor, Dead at 90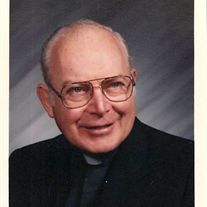 Rev. Richard L. Klug died on Thursday, June 15, 2017. He was born on September 11, 1926 in Cheviot, Ohio. He attended St. Gregory Seminary and received a Licentiate in Sacred Theology from the Pontifical Gregorian University in Rome. He was ordained on December 8, 1951 at Our Lady of Humility Chapel, North American College in Rome, Italy by Bishop Martin J. O'Connor.
Fr. Klug was appointed to his first assignment on August 29, 1952 as Assistant at Holy Family Parish, Cincinnati, and teacher at Elder High School. On June 14, 1957, he was appointed Assistant at St. Clare Parish, College Hill, continuing to teach at Elder High School. He was appointed Assistant on August 16, 1961 at St. Aloysius Parish, Elmwood Place, and on August 25, 1964, Assistant at St. Ann Parish, Groesbeck, both while continuing to teach at Elder High School.
Fr. Klug was appointed Administrator of St. Martin Parish, St. Martin, Ohio, and Chaplain of the Ursuline Convent, Brown County, on August 24, 1967. He was appointed Pro-Synodal Judge of the Archdiocesan Tribunal, effective January 17, 1969; then re-appointed on October 23, 1971. Fr. Klug was appointed Pastor of St. Columbkille Parish, Wilmington, on June 15, 1972. He was appointed Pastor of St. Charles Borromeo Parish, Kettering, on December 2, 1974 and continued to serve as Pastor until 1986. He was appointed Pastor of Annunciation Parish, Cincinnati, on July 29, 1986 and continued as Pastor until he retired on July 1, 2005. He also served as Censor of Books for the Archdiocese for many years.
Reception of the Body will take place at 9 a.m. Friday, June 23, at Annunciation Church, 3547 Clifton Avenue, Cincinnati, Ohio 45220. Visitation will continue until Mass of Christian Burial begins 11 a.m. Most Reverend Dennis M. Schnurr will preside and Rev. John E. Wessling will preach. Burial will follow at 2:30 p.m. at St. Aloysius Gonzaga Parish Cemetery, 4366 Bridgetown Road, Cincinnati, Ohio 45211.