From Field to Dreams to new church: St. John the Baptist, Harrison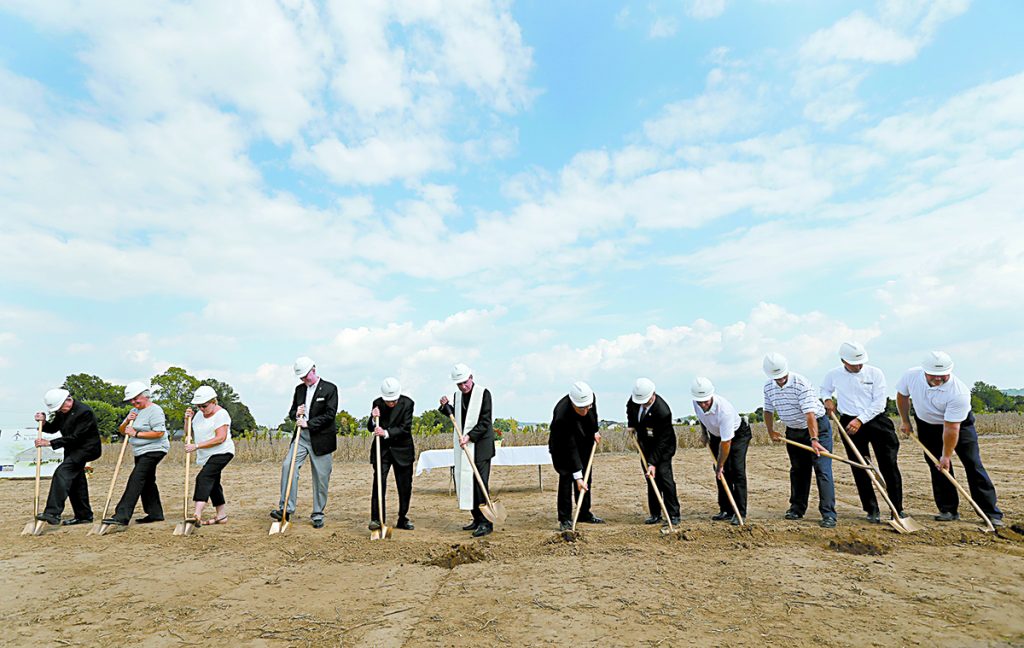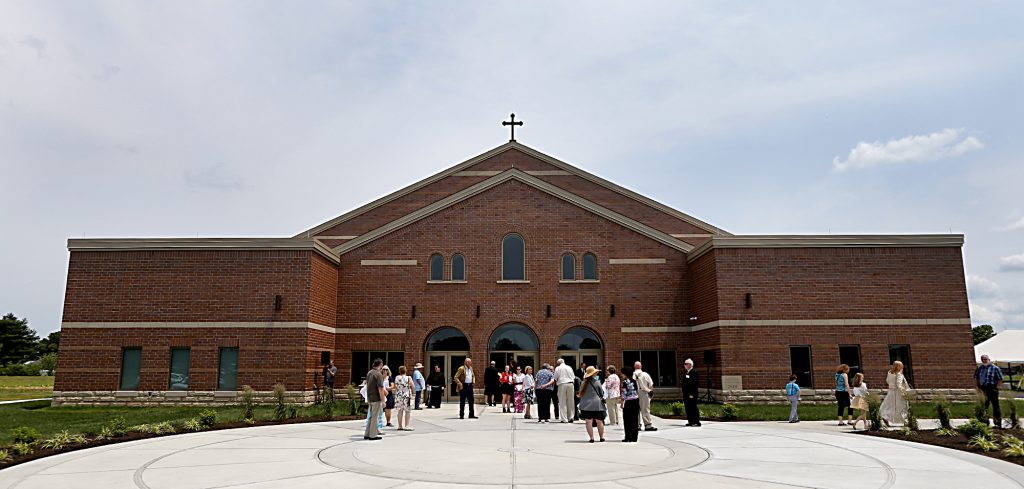 By Walt Schaefer
Since 2003, St. John the Baptist Church in Harrison has had its own field of dreams.
That's when Father Edward Shine purchased 26 acres of former farmland near the intersection of New Haven and Carolina Trace Roads, preparing for parish growth in a part of far western Hamilton County hugging the Indiana line.
Father Shine, who still helps out at the parish, is a man of vision. He saw the future as he began to witness a migration of Catholics from neighborhoods nearer the metropolis to Harrison and Harrison Township.
Soon, a new church will rise in that field—a testament to dreams being fulfilled.
In September Shine, along with Archbishop Dennis M. Schnurr, current pastor Father Jeff Kemper, Father Bill Dorrmann, community leaders, and architects wielded shovels and broke ground on the new church site. Project completion date is January 2019.
"When the new church is finished, the whole parish will move up there for Masses. Right now we're in phase one—building the new church. The old church will still be used for school Masses and the school will remain (in downtown Harrison) for at least 10 years," Father Kemper said.
"Eventually, the rectory and parish offices will be moved in phase 2, which will be about six years from now. We have to pay off the church, but we also need breathing space" before starting another project.
Although the new church will cost $6.3 million, the parish had to raise almost $9 million. "We had to pay off the land bought in 2003, and there are no utilities," Father Kemper explained. "We have to bring all of those in. And part of that $8.8 million we have raised or pledged includes our share of the capital campaign for the archdiocese."
This will be the fourth church building for St. John, which built its first church in 1851. Today, the parish has 2,150 registered families. "The church will serve 800 at the start, and we can expand it without too much major work to 1,000, and then it could be expanded to 1,200," Father Kemper said, adding that he plans to reduce the number of Masses in the new building "We have five Masses now on Sunday and one on Saturday because the current church holds only about 400 people. It's really small.
"We're almost doubling the size and there is a lot of building going on out here. When I came here in 2008 and the parish was 1,800 families. About 300 new houses just went up in the past five years; and there have been 900 new home sites approved for development."
The parish school reflects that growth. Although the school currently has about 300 students, it also has a preschool with an enrollment of 241.
"What I find here is a very strong spiritual life with diverse spirituality," Father Kemper said. "We have the charismatic people; we have the traditional people; we have people who are more liturgically prayerful. I've always been amazed at the number of men involved here in spiritual things and it's a parish that reaches out to others. We twin with a parish in El Salvador, and then we have a twinning relationship with a parish in Jackson, Ky.—Holy Cross—in the southeast corner of Kentucky, in Appalachia. Then we have an informal relationship with St. Leo Parish in South Fairmount in Cincinnati.
Tom Gruber, chairperson of the Future Home Committee, said the fund drive has secured about $8.4 million with firm plans in place to raise the additional $400,000 needed. It took two drives to get to $8.4 million, and he said many parishioners were willing to open their wallets twice.
"We are (now) following up with some individuals and parishioners who said they planned to make a donation but needed a little more time. We are seeking support from some local businesses. As new parishioners register in the parish, we will make appeals to them. We plan to put together a booklet with furnishings and artwork needed in the church and give individuals the opportunity to make donations to purchase them," Gruber said, noting that original stained glass windows and stations of the cross will be moved to the new church. "We think that will bridge the gap between what we raised already and have a debt-free church when we're done."
Lifetime parishioner Jeanette Losekamp, a Future Home Committee member, said the capital campaigns have gone well because of the pastor's leadership. "Father Jeff did it the right way," she said. "When he first came, he was told by the archbishop to build a church. He didn't just come out and steamroll us and say, 'We're building a church this year.' He got the parishioners together. He got to know the movers and shakers in the parish, and he did surveys, and voting, and town hall meeting—anything he could do to find out what the parishioners wanted.
"He's the pastor, but our church is the parishioners," she said. "He was smart enough to know that if he just came out here and said, 'This is what we're going to do', no one would've gotten behind it. We would not have raised $8.4 million. The way he went about it was extremely important."
And for Catholics in Harrison, in just over a year that 2003 dream will be a reality.
This article originally appeared in The Catholic Telegraph's December 2017 edition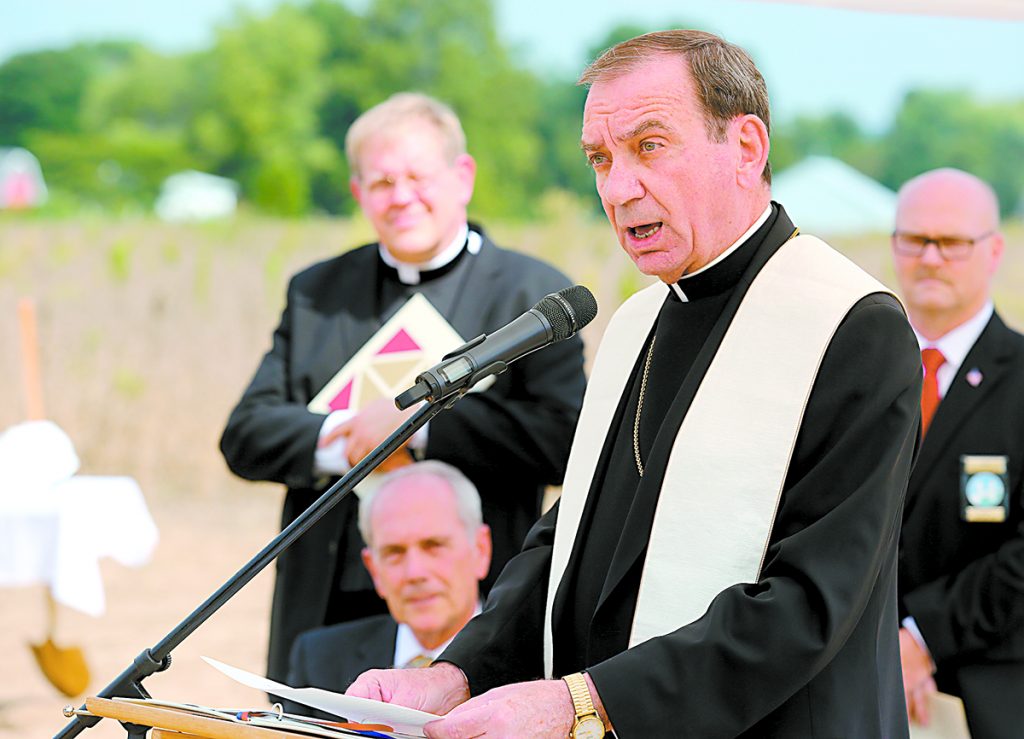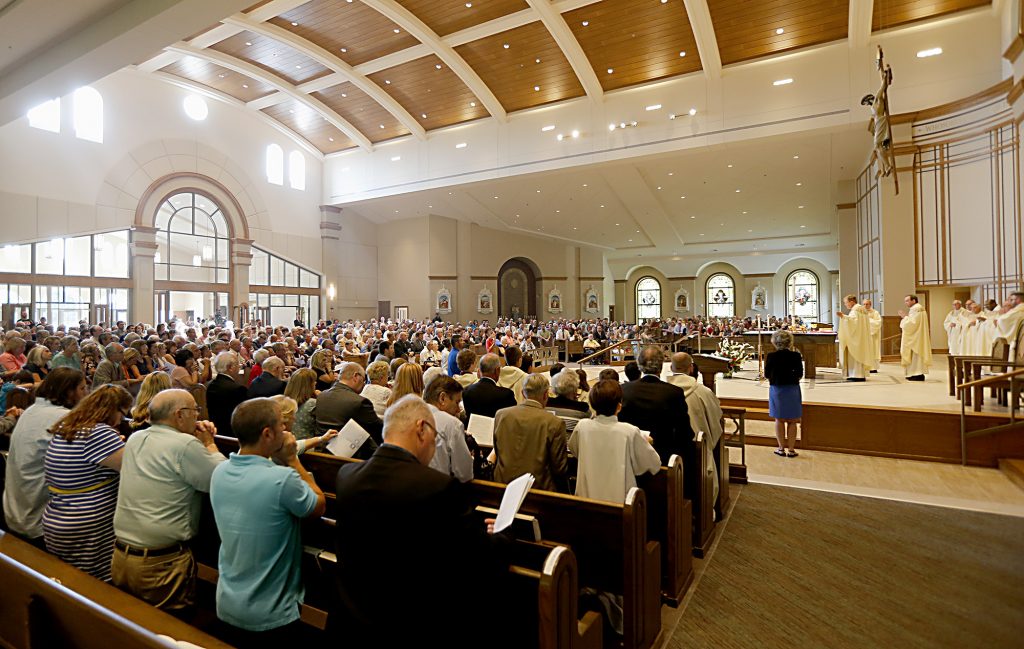 For more on this historic day in Harrison, check out the July Edition to be delivered in homes beginning June, 27