Ways to contribute to Hurricane Harvey, Hurricane Irma or Hurricane Maria Relief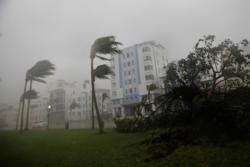 Neighbor helping neighbor. Father Enrique Camacho, executive director of Caritas Puerto Rico, took to the air via a National Guard of Puerto Rico helicopter and delivered food, water, solar lamps, batteries and other supplies to the main office of Catholic Charities of the U.S. Virgin Islands (CCVI) on St. Thomas. Andrea Shillingford, executive director of CCVI, received the supplies gratefully on behalf of the people. She said that they do not feel alone because of the big and wonderful family they have in Catholic Charities.
CCUSA has deployed its Mobile Response Center (MRC) vehicle to Texas. It is currently in Houston, Texas, assisting with response efforts.
Donations to CCUSA's Disaster Relief will be used to support Catholic Charities agencies' efforts to assist families and individuals with shelter, food, and other necessities.
Our agencies provide essential support before, during and after disasters hit. In fact, long-term recovery is an integral part of Catholic Charities' holistic approach and we work tirelessly to ensure individuals can live their lives with the dignity we all deserve. This service is provided to the community regardless of religion, social or economic background.
To give to Hurricane Response of both Harvey, Irma, and Maria go to https://app.mobilecause.com/vf/CCUSADISASTER
Editor's Note: Since this article, Hurricane Maria has pummeled Dominica, some of the U.S. Virgin Islands, and Puerto Rico.