Giving Back: Ursuline Students Spend Spring Break at Pine Ridge Indian Reservation in South Dakota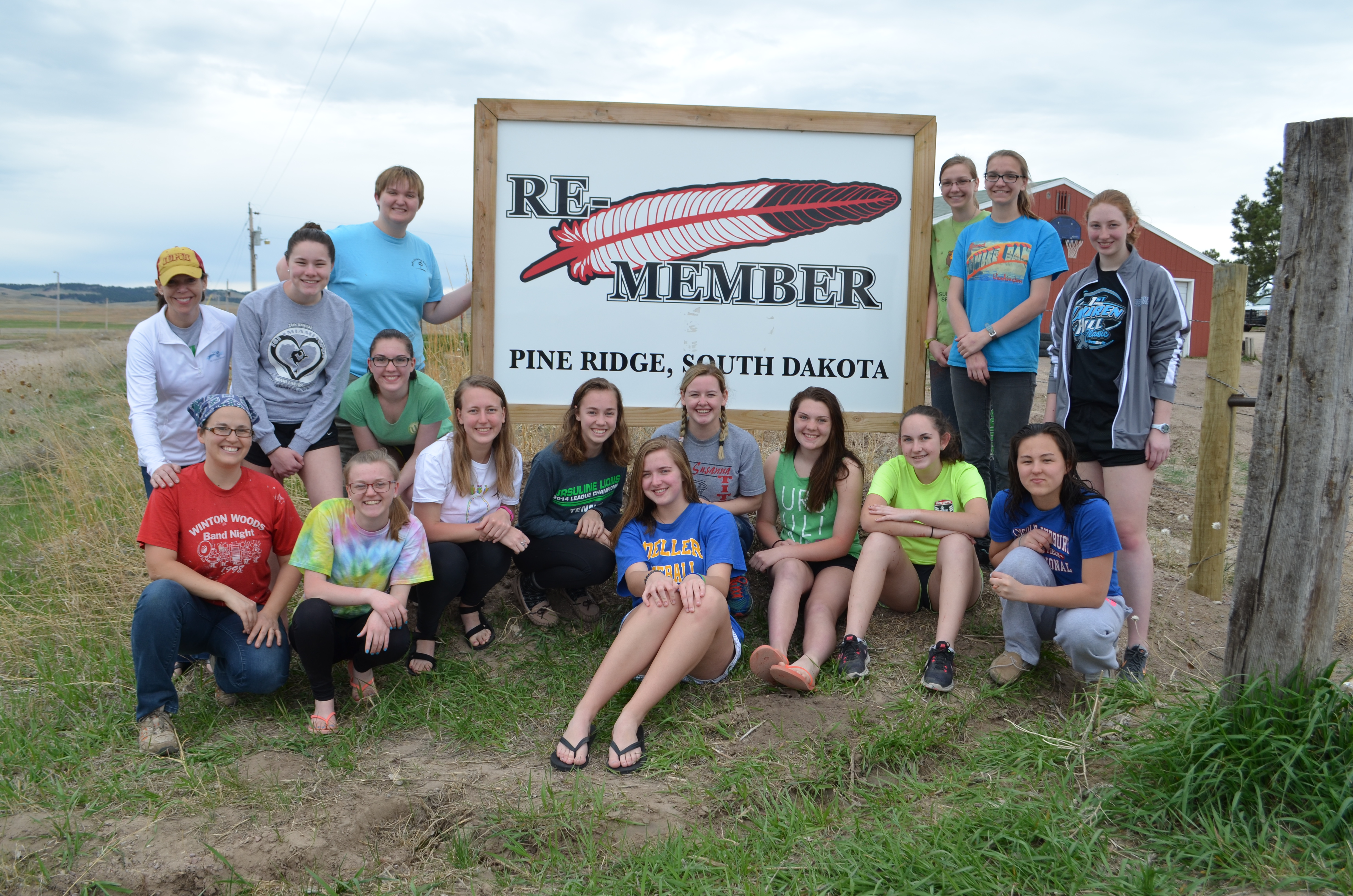 Cincinnati, OH – April 27, 2017:  Thirteen Ursuline Academy students spent their spring break in service to others at the Pine Ridge Indian Reservation in South Dakota. They were accompanied by Ursuline faculty members Ms. Kara Sheldon and Ms. Vicki Zaya, the group spent a week in April doing outreach with the Oglala Lakota people.
The group worked with Re-Member, a non-profit which provides relief to the residents of the reservation and education surrounding Native American culture, history, and justice issues to their volunteers. During the week, the students worked on a variety of maintenance projects and partnered with reservation residents working in the community. In the evenings, the students met local members of the Lakota tribe and learned about the Lakota Creation Story, current events on the reservation, and American history told from the Native American perspective. They also spent time touring the reservation which included a hike in the Badlands, a visit to the site of Massacre at Wounded Knee, and a tour of Oglala Lakota College.
"I learned so much during this service trip," Christine Henn '18 of Finneytown said. "It was an honor to learn about the culture and history of the Lakota from the Lakota people. We learned about the Battle at Wounded Knee from someone whose ancestor was there. That perspective made me think about what I've learned in history classes in a different way."
Throughout their visit the group learned about the Lakota's work with conservation and respecting all of the earth. "We can all learn a lot from the Lakota people," Ursuline Fine Arts faculty member and trip chaperone, Ms. Kara Sheldon, said. "There is extreme poverty, but the willingness to love and help others, and the connection to culture and preserving the earth's natural resources is powerful."
This is the sixth consecutive year that Ursuline students have served in Pine Ridge, and Ursuline's partnership with Re-Member continues to be an important part of Ursuline's community service program.
Ursuline Academy is an independent Catholic college-preparatory school for young women in grades 9 –12. Founded in 1896 in Cincinnati by the Ursulines of Brown County, St. Martin, Ohio, the school has been located at 5535 Pfeiffer Road, Blue Ash, Ohio since 1970.
---
Scripture Connection: After this the Lord appointed seventy-two others whom he sent ahead of him in pairs to every town and place he intended to visit. He said to them, "The harvest is abundant but the laborers are few; so ask the master of the harvest to send out laborers for his harvest. Go on your way; behold, I am sending you like lambs among wolves. Carry no money bag, no sack, no sandals; and greet no one along the way. Into whatever house you enter, first say, 'Peace to this household'. If a peaceful person* lives there, your peace will rest on him; but if not, it will return to you. Stay in the same house and eat and drink what is offered to you, for the laborer deserves his payment. Do not move about from one house to another. Whatever town you enter and they welcome you, eat what is set before you, cure the sick in it and say to them, 'The kingdom of God is at hand for you.' The seventy-two returned rejoicing, and said, "Lord, even the demons are subject to us because of your name." – LK 10: 1-9, 17