Lancers claim second-straight state championship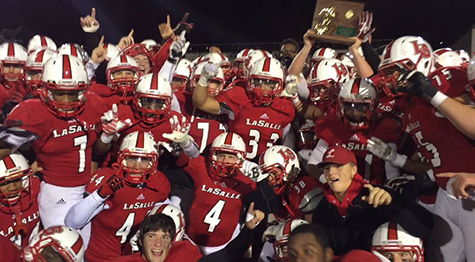 Update Dec. 7, 9:45 a.m.: COLUMBUS — La Salle defeated Massillon Perry 42-0 in the 2015 OHSAA Division II football state championship Friday night at Ohio Stadium. The win earns the Lancers (13-2) their second-consecutive Division II state championship. La Salle defeated Macedonia Nordonia, 55-20, in last season's state final. La Salle is the first Division II state champion to repeat since 1992-1993 (St. Marys Memorial).
La Salle forced four Massillon Perry turnovers and used a balanced offensive attack to control the game. Junior Jarrell White rushed for 93 yards, caught a touchdown pass and recorded 10 tackles on defense. Senior running back Jeremy Larkin rushed for 62 yards and two touchdowns on 11 carries and caught three passes for 57 yards. Senior quarterback Nick Watson finished 9-for-13 passing for 131 yards and one touchdown.
"When you think about a state championship game and all the hard work you put into it, ending up like this says a lot about these kids," La Salle head coach Jim Hilvert said. "We talked about it in our pregame speech, (it) was about completing our mission and our guys completed our mission."
Original Story
Tonight (Friday, Dec. 4) at 8 p.m. the La Salle Lancers (12-2) take on Massillon Perry High School (12-2) for the Division II state football championship at The Ohio State University's Ohio Stadium.
VIDEO: La Salle community gives team send-off for state.
History
The Lancers went 14-1 last season, defeating Nordonia 55-20 in the state championship game in Columbus and the team is back to try and make it two-straight state titles. If they succeed, the Lancers will be the first Division II school to repeat since the early 1990s.
The last Catholic school from the Archdiocese of Cincinnati to repeat as champion was Moeller in 2012 and 2013. Elder High School achieved the feat in 2002 and 2003.
The 2014 state championship was La Salle's first in football.
The state championship game appearance is the first in Perry's history.
The road to state
La Salle went 8-2 in the regular season with a close loss to Colerain and a 24-14 loss to St. Xavier the only black marks on its record. La Salle defeated three out of state teams and went 1-2 in the GCL South.
In four playoff games La Salle has yet to score fewer than 42 points and is defeating its opponents by an average score of 48-15. The Lancers have defeated Butler, Lima Senior, Kings and Perrysburg.
Perry was also 8-2 and opened the season with a close loss to Massillon Washington. The team fell again to Lake in week seven. The Panthers dominated in their first three playoff games, winning 35-0, 40-14 and 28-7 but just edged out Hudson 10-3 last week to reach the state final.
Notes
Battle of the best
Both teams in tonight's game boast an Associated Press Division II Offensive Player of the Year running back as La Salle's Jeremy Larkin and Perry's Keishaun Simms split the honor this year. Sims, however, was named Ohio's Mr. Football.
Larkin has rushed for more than 1,800 yards and 28 touchdowns this season, not to mention 600+ receiving yards. Sims has 3,108 yards and 42 touchdowns.
Coaches
Keith Wakefield, head coach of Perry, was named the AP Coach of the Year in Division II. He was hired as the head coach at the end of the 2012 season, though he had coached the team previously from 1982-2003 with a 157-74 record in that stretch. Wakefield led Perry to the state semifinal in 2000 and also spent several years as an assistant coach at the University of Mount Union.
La Salle coach Jim Hilvert is in his first-season with the team after replacing Nate Moore who left after leading La Salle to a title last season. Hilvert was most recently the head coach at Thomas More College in northern Kentucky where was was the winningest coach in school history.
Small World
Perry's first loss this season came to Massillon Washington (4-6). The Tigers of Massillon Washington are coached by former La Salle head coach Nate Moore.
Tickets, TV and Radio
Tickets for the game were available for pre-sale at La Salle but tickets are also available at Gate 5 of Ohio Stadium for $12-$15.
The game will be televised on SportsTime Ohio and locally on Time Warner channels 99 and 1311 HD.
The WLSN La Salle broadcast team will cover the game at 88.9 and 89.1 FM while the OHSAA broadcast can be heard on 1360 AM.