Historic capital campaign takes off; New foundation created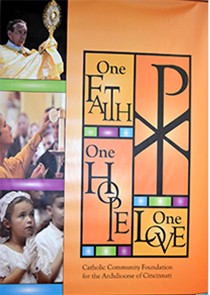 Press Release
Archdiocese of Cincinnati 
In an initiative called "historic" by Archbishop Dennis M. Schnurr, the Archdiocese of Cincinnati has launched a capital campaign to raise $130 million toward securing and growing the vitality of its parishes, schools, social services, and other ministries for decades to come.
For The Catholic Telegraph story on this campaign, click HERE.
The campaign — called One Faith, One Hope, One Love — is based on the positive results of a professional planning and feasibility study conducted in 2013. A "pilot phase" involving 13 parishes already has exceeded its goal.
"I ask all of you — as individuals and families — for your prayerful consideration concerning the historic opportunity for stewardship being offered by the One Faith, One Hope, One Love campaign," Archbishop Schnurr wrote in a letter today to all parishioners in the archdiocese. The letter appeared in The Catholic Telegraph, the newspaper of the Archdiocese.
Half of the total funds raised will go toward Catholic education, including $50 million to expand tuition assistance and $15 million for educational programming. The other half will be divided among four components: Local Parish Priorities (to be determined by each individual parish for its share); Fostering Vocations (including tuition assistance for seminarians); Caring for Retired Diocesan Priests; and Catholic Charities/Social Services, which serve the poor and vulnerable across Southwestern Ohio. A separate 501(c)3 organization, the Catholic Community Foundation, has been formed to oversee the funds and their distribution.
"I call it historic because no appeal involving our local needs has been offered on such a scale since Archbishop Karl Alter's capital campaign more than a half-century ago," Archbishop Schnurr said in his letter. "In scope, this represents a comprehensive, extraordinary and exciting outreach to strengthen our parishes, our schools, our ministries, our very foundations for the future. These goals are about nothing less than building the Church as we are called by Christ to do."
Posted Jan. 23, 2015