Archdiocese plans to raise $130 million in new campaign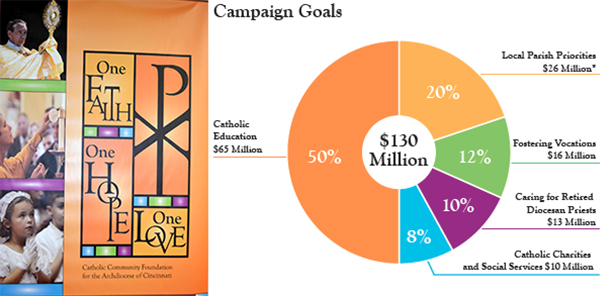 By Steve Trosley
The Catholic Telegraph 
An historic fundraising campaign to raise $130 million will launch this month in the Archdiocese of Cincinnati, and preliminary results indicate it could be a stunning success.
For the official press release from the Archdiocese of Cincinnati, click HERE.
"Every household will be asked to participate," Michael Vanderburgh, Director of the Archdiocesan Stewardship Office said this week as results from an early silent phase of the campaign were more than double than projected.
"The 13 pilot parishes in that first phase pledged more than $35 million," Vanderburgh said. "We had hoped to reach $15 million by this phase of the campaign.
"What is most encouraging is that the people we talk to about it are excited by what we're doing."
The lion's share of the funds from the campaign will serve immediate needs of regional ministries, Vanderburgh said.
"It's like we all pay utilities and rent or mortgage each month but every 25 years or so, we have to replace the roof. That's an extraordinary investment, just like this effort."
(Editor's note: See Archbishop Dennis M. Schnurr's letter about the campaign on page 2 of this edition.)
Vanderburgh explained that this campaign will also yield $40 million in permanent endowment and does not replace the annual Catholic Ministries Appeal (CMA).
"CMA supplies a large portion of some of our ministries' annual operating budgets," he explained. In contrast,  "The campaign funds will help us grow and expand our Catholic ministries to meet the needs of the region," Vanderburgh said.
Members of the more than 200 parishes of the archdiocese will be solicited in phases to make the campaign more manageable. The early pilot effort was undertaken to refine the campaign operations and to test the reception of the faithful to the effort.
"That's why we're so pleased with the very positive results thus far," Vanderburgh said.
He said that in addition to the benefit the archdiocese's various ministries will experience from this drive, the experience of the pilot parishes shows individuals will also benefit.
"One pastor told us that he found his efforts in solicitation were helping him get to know his parishioners on a more personal basis, which in turn helped him in providing the pastoral care in a more effective way.
"There is also the benefit of being part of something that requires sacrifice. Part of our Catholic tradition is that we sacrifice to help our fellow human beings," Vanderburgh said. "We use the phrase, 'Equal sacrifice, not equal gifts.' We're asking each family and individual to prayerfully consider a sacrificial pledge."
The solicitation period will continue through the end of 2015. Households will be asked for outright donations from pledges (over a five-year period) and deferred gifts from wills or trusts. The campaign is conducted by volunteers in each parish. Most parishes will not begin their campaigns until later this year.
Among other ministries, Catholic education here will benefit.
"The Ohio Ed Choice program has provided tuition funds for many disadvantaged children. This tuition assistance money will provide access to our Catholic schools for many more children so that we can reach our goal of affordability for everyone," Vanderburgh explained.
Specific information on how the campaign funds will be used is provided with this story. For a more in-depth explanation and related information, see the website 1faith1hope1love.org.
This story originally appeared in the February 2015 print edition of The Catholic Telegraph.