Home: A Place of Connection & Faith
August's arrival means summer is wrapping up. Vacations are over and we're headed back to routine, with a little more structure than a month ago. Our noses are back at the grindstone for work, school and practices—and that means busyness. Days fly between August and May, with us dashing between home and the activities that fill our hours. Staying connected as a family can become elusive during this time.
I offer a guide to maintain your home as a place of loving connection and solid faith.
BEGIN AND END THE DAY LOVINGLY
Dr. Meg Meeker, a well-respected Catholic pediatrician, said that a child's day is directly influenced by how they're greeted in the morning and the manner in which they're put to bed. Rushed and panicked wake-ups sky-rocket stress. For children who struggle to control their emotions, this tends to stay with them throughout the day.
Similarly, when bedtime is harsh or marked with frustration, as often happens with younger kids, children don't fall asleep as easily or soundly. After learning how much we influence our children in these hours, I cultivated a more relaxed, loving start and end to each day. I give hugs and warm smiles as soon as I see my crew each morning because I want them to be certain they're loved. Tucking them in, my husband and I say how much we love them, looking them in the eyes and giving sincere hugs and kisses. This is paramount, not for the sake of serenity itself, but so we are conduits of God's love to our own children.
PHONE DOWN AND EYES UP AN HOUR BEFORE BED
This one's not just for keeping up our melatonin production; it's to make space for real connection among family. With hands free, we create availability. Whether it's a quality conversation or a quick question in passing, any exchange between parents and children is worth creating the opportunity to interact. As parents, we set the example, setting a boundary around time with each other. Try this for the whole evening, or at least an hour before bed. The Lord is ready to receive us, hear us and talk to us every minute of the day. Let us imitate Him by making ourselves available to the precious souls under our same roof.
PRAY THE ROSARY AS A FAMILY
Second to the Mass, the Rosary is the most powerful prayer we have. St. Padre Pio called it "the weapon of our times." Satan confessed to Father Gabriele Amorth, a late exorcist in Rome, that "every Hail Mary of the Rosary is like a blow to the head for me. If Christians knew the power of the Rosary, it would be the end of me."
This prayerful reflection on the life of Jesus, offered through the Blessed Virgin, guards the family and cultivates intimacy between Christ and us. It's tempting to rush through monotonous prayer or avoid saying it at all, but such abundant benefits are a compelling invitation. Begin by praying a decade as a family, then increase to the whole Rosary when children can cooperate. Carry on in patience and diligence knowing there are no drawbacks to approaching God as a family.
Pope St. John Paul II said, "As the family goes, so goes the nation, and so goes the world in which we live." How well we love and receive each other and how we pray together in our homes is carried in our families' hearts.
We're back at it with lunchboxes, backpacks, practices and routine. Let these all be defined by the love cultivated among our family at home.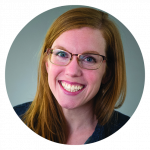 Katie Sciba is a national speaker and Catholic Press Award- winning columnist. Katie has been married for 14 years and is blessed with six children.
This article appeared in the August 2022 edition of The Catholic Telegraph Magazine. For your complimentary subscription, click here.