Hoops Report: Alter girls finish perfect season with state championship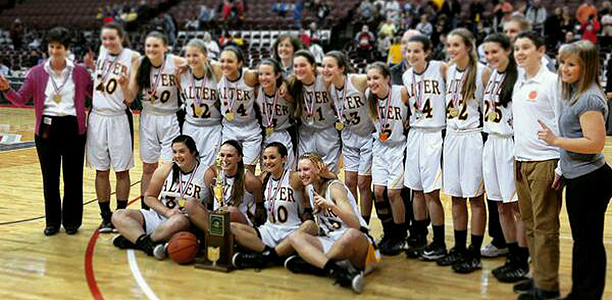 Staff Report
Perfection is the goal of all athletes and nothing symbolizes perfection like an unbeaten record and a state championship trophy.
Archbishop Alter High School in Kettering sent its girls all the way to the state championship game last year, but the Lady Knights fell short. This season, there was no mistaking the best girls basketball team in Ohio's Division II after Alter topped Toledo Rogers 57-42 March 21 in Columbus.
With the victory, Alter finishes an undefeated season improving to 30-0 as the Associated Press No. 1-ranked team in the state in Division II. It takes home its second state title, its other coming in 2008. Alter is the first girls basketball team in OHSAA history to win 30 games in a season.
"Our kids are pretty competitive, pretty determined and have big hearts. They got in there and scrapped," said Alter Co-Head Coach Christina Hart. "I'm really excited for all four of our seniors, our team and our staff. They couldn't go out in a better way than they did this year."
After a competitive and fast-paced first quarter, Rogers led 16-12, but Alter then outscored Rogers 15-6 in the second quarter to take a 27-22 lead at halftime. Alter senior Emma Bockrath scored 21 points and had four steals, including knocking down a three-pointer early in the fourth quarter to push Alter's lead to double digits.
Alter's defense stayed strong in fourth, forcing 21 turnovers in the game.
OHSAA Boys Basketball update, one remains
Dayton Chaminade Julienne is the lone Catholic school from the Archdicoese of Cincinnati still vying for an OHSAA boys basketball championship this season.
The Eagles are 22-6 and will face Associated Press No. 2 Lima Central Catholic on March 26 at 8 p.m. in Columbus for a berth in the state championship game. Central Catholic is 25-2.
Should they advance, CJ will play either Cleveland Villa Angela-St. Joseph or Columbus Eastmoor Academy in the state title game March 28 at 1:30 p.m. at Ohio State's Schottenstein Center.
DePaul Cristo Rey finishes fourth at OCSAA state tournament
DePaul Cristo Rey, one of the newest schools in the Archdiocese of Cincinnati, has a young basketball program that last season struggled to find its way. This year however, the Bruins made it all the way to the Ohio Christian School Athletic Association state championships, finishing fourth in the state.
DePaul Cristo Rey won just three games in the program's first three years but finished this season 11-13. The Bruins season ended with a 67-40 loss to Euclid New Day Academy, their first loss after six straight victories.
Posted March 23, 2015