Hope for Troubled Marriages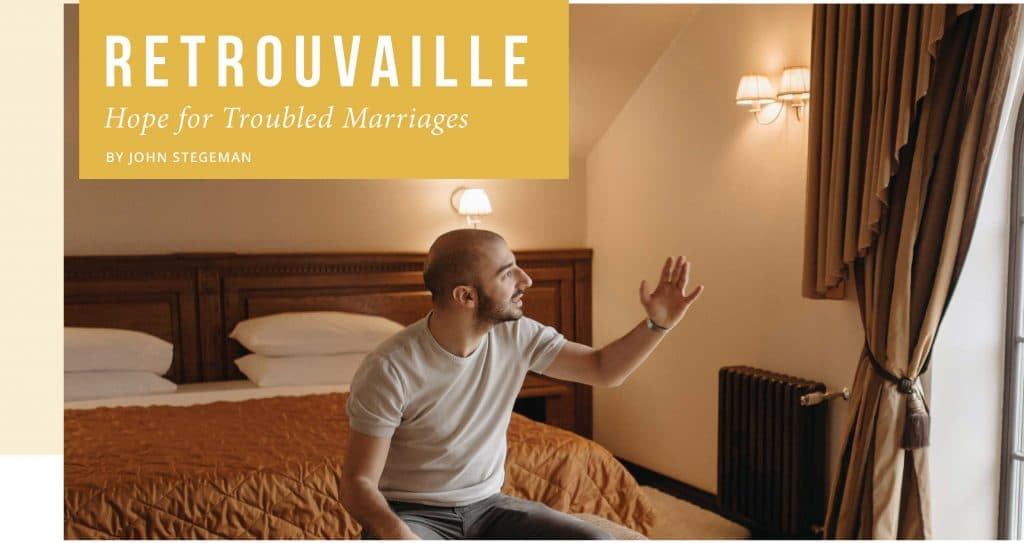 Twenty-three years after saying "I do," Gloria and Dan Sprague were staring at the end of their marriage.
"Communication had totally broken down for us so much that we didn't think it could be restored. We lived in two separate households for 11 months. I filed for divorce. It wasn't until we went on our Retrouvaille weekend that we got a spark of hope."
Fifteen years later, the couple volunteers as community coordinators for Retrouvaille of Cincinnati/Tristate, helping other troubled marriages.
Retrouvaille (pronounced retro-vi) is a program to help those in struggling marriages. It was established in Quebec, Canada, in 1977 by Guy and Jeannine Beland who worked as a Worldwide Marriage Encounter presenting couple. They witnessed struggling couples attend their events but need more, so they created their own program to minister to these couples, and it took off. Retrouvaille has since spread to 29 countries and 40 U.S. states, saving countless marriages.
No troubled marriage can be saved in just one weekend, said Gloria Sprague, and the Retrouvaille program recognizes that. Couples attend six follow-up sessions then monthly meetings.
"First we got hope, then we got healing," Gloria said.
Catholic in origin, Retrouvaille includes a spiritual component, but is open to couples of all faiths or no faith. Run entirely by volunteers, it is not an official ministry of any diocese, but many endorse it – including the Archdiocese of Cincinnati.
The program's success rate is tremendous, with 95 percent of participants recommending the program to others and 76 percent of couples still married five years later, according to a 2015 international survey.
"It doesn't have to be a last-ditch effort," Gloria said. "It is for when communication has broken down or couples are disengaged, or life has been taken over with kids and jobs and COVID, or whatever has happened in life."
Three couples and a clergy member present at each Retrouvaille weekend, usually at a hotel or retreat center from Friday evening to Sunday afternoon. In the Cincinnati/Tristate chapter all involved clergy are priests. Team couples present on various topics, including communication, forgiveness, and trust. Couples adjourn to their rooms after each presentation for private discussion on the topic. There is no group sharing to stay focused on the relationship between husband and wife.
"The couples are there to learn," Dan said. "And to get hope for their marriage."
Weekends include Mass, meals, and an opportunity for confession. The registration fee is $250, and a freewill donation is requested on the weekend, but Retrouvaille coordinators work with those unable to pay to ensure they aren't turned away. The fee covers the weekend and post-weekend sessions.
"That costs a lot less than two divorce attorneys," Gloria adds. "It's not just about restoring our marriage. Before our troubles, our big troubles, I would have said we had a good or great marriage. But now we have a new or next level intimacy that we didn't even know was out there until we went through this program."
HelpOurMarriage.org, the Retrouvaille website, offers the program for marriages in any stage, including those already divorced if both parties are willing to try.
"Only the two of you can save your marriage," reads the website. "Retrouvaille will teach you a set of skills that, if used properly, will help you get on the right track."
This article appeared in the December 2021 edition of The Catholic Telegraph Magazine. For your complimentary subscription, click here.