International Pilgrim Virgin Statue of Our Lady of Fatima to visit cathedral
August 8, 2012
The International Pilgrim Virgin Statue of Our Lady of Fatima, sculpted in 1947 based on the description of Sr. Lucia, will visit the Cathedral of St. Peter in Chains on Tuesday, Aug. 14, the day before the feast of the Assumption.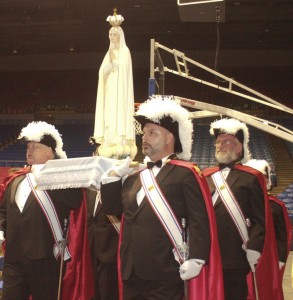 The visit will begin with a procession and Mass at 11:30 a.m. followed by a brief talk, the praying of the rosary, and the Litany to the Blessed Virgin Mary. Private prayer throughout the day is encouraged, ending with a recessional at 5 p.m.
The Fatima USA 2012 event will take place at 7:30 p.m. Aug. 10, at the Spiritual Center of Maria Stein. Celebrant for the outdoor Mass is Auxiliary Bishop Joseph R. Binzer. Other activities will include a Living Rosary and a candlelight procession. Please bring lawn chairs and a flashlight.