Japanese delegation visits St. Ignatius school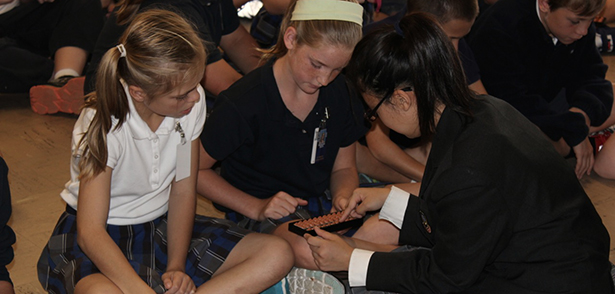 Press Release
As part of St. Ignatius Loyola School's cultural exchange program, 21 students and two chaperones from ShotoKu Gakuen, a school in Gifu City in Japan, stayed with St. Ignatius families for a week.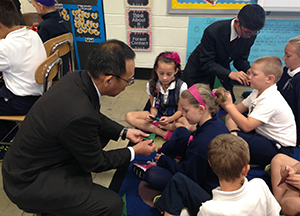 The Japanese delegation toured Cincinnati's City Hall, the World Peace Bell, Eden Park Overlook, Riverside Drive in Covington, and Fountain Square. In addition, they were able to experience life as a St. Ignatius student. The Japanese students visited each classroom and spoke to the students about life in Japan. They taught the students "Kendama", a child's game that involves swinging a ball onto a wooden point, as well as origami. In the evening and on the weekend, students enjoyed time with their host families.
This program is part of St. I's cultural exchange program between the school and international sister cities of the City of Cincinnati including Nancy in France, Liuzhou Guangxi in China, and now Gifu, Japan.
Last year, students from St. Ignatius were able to visit Gifu and experience life as Japanese students.
"It is truly an honor to be part of such an amazing exchange," said Assistant Principal Laura Sieve, who is in charge of the exchange. "It is great to see the students from both schools grow as they become more familiar and enthusiastic about another culture."
Posted Nov. 14, 2014