Fall sports report: MND wins state for eighth time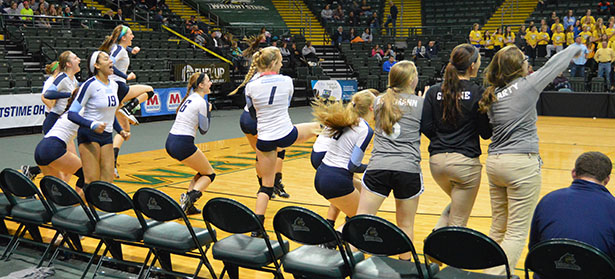 Staff Report 
DAYTON — For a record-tying eighth time, Cincinnati Mount Notre Dame took home the OHSAA Division I volleyball state championship as the Cougars beat Massillon Jackson 3-0 (25-17, 25-19, 25-18) Nov. 8 at Wright State University.
See below for sports updates from Badin, McNicholas, Moeller, St. Xavier, Chaminade Julienne, Alter, Roger Bacon and more
Mount Notre Dame is now tied with Cincinnati's St. Ursula Academy and Newark Catholic with eight volleyball state championships. St. Ursula last won a title in 2003 and Newark Catholic's last title was in 2004. MND has won titles in 2014, 2013, 2011, 2006, 2000, 1999, 1998 and 1995.
In the state tournament for the 12th time, second-ranked MND (27-2) beat previously undefeated and top-ranked Toledo St. Ursula Academy in the state semifinals Friday.
The Cougars hit .292 in the match and had 10 service aces. They were led by junior Dani Szczepanski with 17 kills, while junior Sydney Mukes had 11 kills. Senior Jessica Towle had 36 assists.
In Division II, Archbishop Alter reached the final four but lost to eventual runner-up Columbus Bishop Hartley.
Badin, McNicholas girls win state soccer titles
For the second-straight year the Division III OHSAA girls state soccer championship trophy is coming to Hamilton.
The Badin Rams won their third state title and second in a row with a 2-0 victory against Ottawa-Glandorf Nov. 7 at Columbus Crew Stadium. Badin senior Madi Kah scored first for the rams in the 33rd minute and junior Malia Berkley added an insurance goal in the 42nd. Badin's defense held their opponent to just one shot on goal in the second half. Abby Lampe recorded three saves for Badin.
In Division II, a 3-0 victory over Akron's Archbishop Hoban at Columbus Crew Stadium Nov. 7 gave the McNicholas Rockets their first girls state soccer championship.
McNicholas finishes the season 21-1 and took home the title in its first appearance in the state championship game.
Junior Emma Heise scored twice to lead the Rockets. Meghan Martella also scored. Sophie Gorman provided an assist. Lauren Rice recorded three saves for McNicholas.
Moeller wins state golf title
Moeller High School won its first state golf championship Oct. 18 in Columbus.
The Crusaders finished nine strokes better than second place Colubmus St. Charles for the Division I Boys championship. Senior Ben Sattler led Moeller with a 10-over 154.
St. Xavier finished eighth overall.
On the girls side, Chaminade Julienne took fourth place overall in Division II. St. Ursula Academy finished seventh in Division I.
Alter girls bring home tennis title
Senior Lauren Hawley and sophomore Amanda Showalter won the Division II doubles tennis championship Oct. 18 in Columbus. The Alter duo swept a tandem from Shaker Heights Hathaway Brown 6-2, 6-2.
The win was Alter's second girls state tennis doubles championship, but its first since 1976.
Archdiocese schools excel at cross country championships
St. Xavier senior Michael Vitucci won the Division I boys individual state cross country championship Nov. 1 at the National Trail Raceway in Hebron with a time of 15:34.53. St. Xavier finished third overall as a team.
In Division III boys, Summit Country Day finished state runner-up in the team standings. John Murdock finished fourth overall for Summitt.
On the girls' side, Alter High School finished fourth in Division II.
5 archdiocese schools still in state football playoffs
Catholic Schools from the Archdiocese of Cincinnati continue to play well in the OHSAA football playoffs.
In Division I, Moeller and St. Xavier will face off Saturday at Mason High School for their regional semifinal game.
In Division II, LaSalle will face Mount Healthy Friday night, also at Mason in a regional final.
Archbishop Alter will face Clinton Massie Friday at Monroe High School in a Division IV regional final and Lehman Catholic will play Maria Stein Marion Local Saturday at Wapakoneta High School.
QUICK HITTERS: Roger Bacon announced the hiring of 2006 alumnus Ben Stone as the school's new men's and women's head varsity swimming coach. Mount Notre Dame's field hockey team reached the state semi-finals before falling 2-1 to eventual champion Shaker Heights. On Oct. 10 Bishop Fenwick celebrated the anniversary of some major athletic accomplishments. Over  12 months in 1972-1973, the Falcons won two Class A football state championships and a Class A state baseball championship. The three championship teams, and cheerleaders, were honored on the field before kickoff of the school's homecoming game. On Oct. 31 parochial football powers Alter and Chaminade Julienne celebrated their programs meeting for the 50th consecutive year. The two schools have faced off in football 53 times. Alter leads the series 33-19-1.
Information provided from OHSAA press releases, GCL websites and other sources.
Posted Nov. 17, 2014