Kindergarten teacher uses cancer battle to teach lessons of faith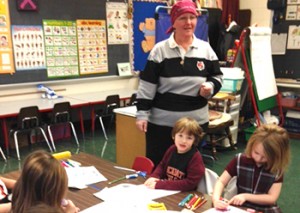 Upon entering Lisa Miller's classroom at St. Nicholas Academy, it's obvious how much her kindergartners adore their teacher. Just as evident is her love for them and dedication to bringing lessons of faith to the classroom, including her battle with breast cancer.
Read more Catholic Schools Week Stories
Miller, a Catholic school teacher for 35 years, received the diagnosis just five minutes before the opening faculty meeting for the 2015-16 academic year. She'd always been "religious" about her annual mammogram, so wasn't especially concerned until the phone call came.
"I broke down and cried," she recalled, as her fellow faculty members responded with hugs and expressions of support and concern.
Of course, Miller's concerns were with the little ones who would soon be under her tutelage — what questions they would have as her appearance changed and her treatment progressed.
"I decided to just take it one day at a time and be as honest as possible with them, while bringing it to their level. I felt they would be more comfortable knowing the truth," she said. "I told them I needed to let them know that I had a disease called cancer and explained what it is, that it was found early, and that I was going through treatment that would make me better."
Miller said she was amazed that so many of the students had prior experience with cancer. They were concerned about her, of course, and had plenty of questions. The most telling came from a little boy named Adam, who asked, "Why did God give you breast cancer?"
The faith filled teacher's response? "God didn't give me cancer. It's just something that's happening inside my body. You have to trust that God will take care of you."
She also told her students that "faith says we have to believe there is a reason for everything, even if we don't always understand what it is."
This was a lesson for Miller herself after her husband, Jeff, was laid off. As it turns, out, he has been able to accompany her all of her medical appointments. Miller, who acknowledges that she is very independent, said she has also learned how to accept help from others.
"I think God has been trying to remind me take a step back, to focus on what's really important," she said.
Aside from the four days she took off to have surgery last fall, Miller hasn't missed any time away from her students, earning her the admiration of St. Nicholas Academy faculty and staff.
"Mrs. Miller has been, and will continue to be, an inspiration to the entire St. Nicholas Academy community," said Jason Fightmaster, principal. "Throughout her battle with cancer she has stayed upbeat, positive, and has been here each and every day, even the most difficult ones.  It is an honor for all of us to work with her and to be able to be there for her along this difficult journey."
"Everyone has just been so supportive — the teachers, the parents, the kids," Miller said.
The school community has supported Miller in a number of ways. Shortly after her diagnosis, she received the sacrament of the anointing of the sick during a school Mass.
"It was a very sacred and touching moment for the students," said Father Ray Kellerman, pastor of Holy Trinity Parish in Norwood, which sponsors the inter-parish St. Nicholas Academy, along with St. John the Evangelist in Deer Park and Our Lady of the Sacred Heart in Reading.
Various fundraisers have also been held to assist Miller and her husband, members of St. Peter Parish in New Richmond, with medical bills. Hundreds of "Team Miller" bracelets were sold and a beautiful cancer quilt made by faculty members was raffled off and won by Miller herself. "I know that raffle was fixed," she said with a smile.
Because the cancer was caught early and didn't spread to her lymph nodes, Miller said her prognosis is good. She has completed chemo and will soon begin radiation treatment. In the meantime, she is grateful for the "prayers, smiles and hugs" from teachers and students as she passes them in the halls at St. Nicholas Academy. "They are wonderful, and mean so much," she said.
This story first appeared in the February 2016 print edition of The Catholic Telegraph