2016 Cincinnati Catholic Schools Week Mass fills cathedral [Photos]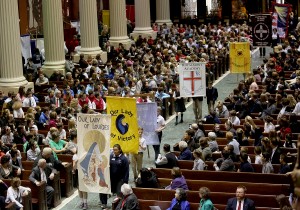 The Cathedral of St. Peter in Chains was full of students and teachers singing in praise to the Lord Tuesday morning for the 2016 Catholic Schools Week Mass for Cincinnati-area schools. Archbishop of Cincinnati Dennis M. Schnurr was the celebrant.
Susan Gibbons, interim superintendent of Catholic schools, led the call to worship and welcome before the Mass opened with a procession of students representing all the Catholic schools in attendance.
Tuesday was also is the Feast of the Presentation of the Lord, also known as Candlemas Day because a part of the liturgical celebration of this day is to bless the candles that will be used throughout the year. This year, the feast day was also the closing of the Year for Consecrated Life. Therefore, the archdiocese invited some men and women religious to carry lit candles in the opening procession. The Archbishop blessed the candles along with other cathedral candles.
In his homily, the archbishop urged students to hold tight to the "gift of faith" as their lives change into adulthood.
"Our Catholic schools set and achieve high academic standards and high graduation rates but, even more, our Catholic schools equip our students with the eyes of faith and an understanding that their talents are God-given and given for a definite purpose," he said. "And with that vision, a life-sustaining, a life-fulfilling adventure begins. As we see in the lives of Simeon and Anna, there will likely be unexpected turns. As we see in the lives of Jesus and Mary, there will be joys and sorrows. We realize that, with the passage of time, things change and life itself changes. Hopes and expectations can be dashed. But the one constant in our lives, the one gift that keeps on giving, is the gift of faith."
The archbishop went on to speak highly of the work being done in Catholic schools throughout the Archdiocese of Cincinnati.
"We are blessed in this archdiocese to have Catholic schools founded for the purpose of helping parents give their children an excellent well-round education, embracing its spiritual, academic, moral and social dimensions," he said. "It is for this reason that we join the Catholic Church throughout this country in setting aside one week every year to celebrate our Catholic schools. Catholic Schools Week is an opportunity to highlight and to celebrate the contributions of our schools – students, teachers, and staff – to the Church and to the society in which we live. Our Catholic schools are indeed "Communities of Faith, Knowledge, and Service."
Auxiliary Bishop Joseph Binzer will preside at a Mass for students from Dayton and the Northern Region at 10 a.m. Wednesday, February 3, at St. Charles Borromeo Church in Kettering, with a procession beginning at 9:40 a.m.