La Salle High School to drug test all students beginning 2014-15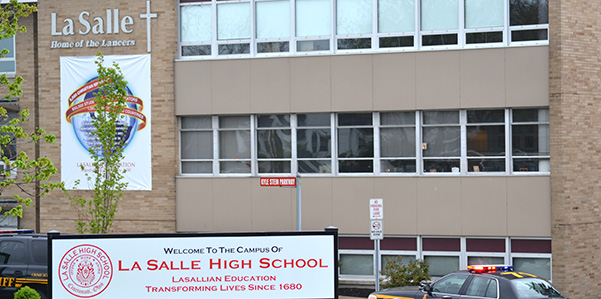 Staff Report
La Salle High School has announced that it will begin mandatory drug tests on all students beginning with the 2014-15 school year.
La Salle, a private Catholic school located in Green Township near Cincinnati, sent a letter to parents on Oct. 11 detailing the program. The letter encouraged parents to choose to enroll their students voluntarily in the program for the 2013-14 school. The testing will be done by a company called Psychemedics using hair samples.
"Our commitment to our students is absolute," Principal Tom Lubbe wrote in the letter to parents. "We are unaware of another high school in the broad region of Greater Cincinnati who has taken this stance to protect its entire student population. All adolescent students everywhere, including all of our Lancers, are confronted with ongoing societal temptations to start down the dangerous road of drug use. It is harmful, illegal, and will lead to negative consequences affecting the health, safety, and future of your son."
La Salle joins four other Lasallian schools around the country that maintain similar programs.
The decision was met with support from the Archdiocese of Cincinnati Catholic Schools Office according to superintendent Jim Rigg.
"The decision to provide drug testing to students at La Salle High School was made locally, with the knowledge and support of the Catholic Schools Office," Rigg said in a statement provided to The Catholic Telegraph. "This policy was developed by the leadership at La Salle based upon their assessment of the best interests of the students at the school. We consulted with the leadership as the policy was developed.
"At this point," he added, "we are not considering an Archdiocesan-wide policy on drug testing, nor are we aware of any other school considering such a policy."
Information pertaining to the new drug testing and intervention program is located at the La Salle website on a page titled Preeminent Standards.
The program is being run in cooperation with the Coalition for a Drug-Free Greater Cincinnati.
"We are pleased to partner with La Salle High School to assist them with building out their comprehensive substance abuse prevention and intervention program because we know no single strategy alone is effective," Mary Haag, president and CEO of the Coalition for a Drug-Free Greater Cincinnati wrote in a statement on La Salle's website. "No community, school, or person is immune to substance abuse. But being proactive, starting early and providing consistent doses of prevention leads to fewer problem behaviors."
The program will test for cocaine, marijuana, various opiates such as Oxycodone and others, amphetamines and PCP. It will cost parents a $60 tuition increase next year.
For more information, see the full story to be released in the November 2013 print edition of The Catholic Telegraph. To subscribe to The Catholic Telegraph at no cost, contact Greg Hartman.