Sharonville abortion clinic denied license renewal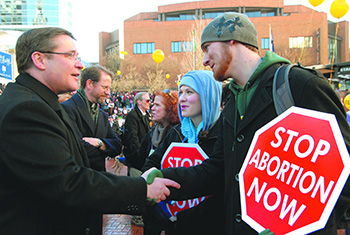 Press Release
Catholic Social Action Office
A press release from Ohio Right to Life issued yesterday reports on the revocation of the license of the Lebanon Road Surgery Center, an abortion clinic near Cincinnati.  A state health examiner affirmed the order to revoke the license after this abortion clinic, operated by the late-term abortionist Martin Haskell, failed to obtain either a transfer agreement or a variance.
The Lebanon Road Surgery Center is the most recent of 2013's five Ohio abortion clinics closed or slated to close.
Ohio Right to Life reports that, according to Ohio law, Lebanon Road Surgery Center exists as an Ambulatory Surgical Facility and because of this legal status, the clinic is not a full-service medical facility.  To operate legally, Lebanon Road Surgery Center must have a transfer agreement with a full-service hospital to handle all cases of abortion complications against the mother.  In the case that an abortion facility is unable to acquire a transfer agrement, it can apply for a variance (exception).  Leban Road Surgery Center failed to obtain either.
Numerous parishioners and other pro-life activists, especially those at St. Michael Church in Sharonville and other area parishes, have prayed for the closing of this abortion facility.  As Fr. Tom DiFolco, pastor of St. Michael's Church shared, "It just goes to show that prayers do get answered.  Moving forward, we need to keep compassionately reaching out to expecting mothers to help them find alternatives."
With them, we celebrate this news and the probable end to this particular threat to unborn life.  We continue to pray for the mothers and families dealing with the tragic decision of abortion and continue to work to build a society of more life-affirming solutions.
To learn more, read the Ohio Right to Life press release here.
The Ohio Department of Health's Report and Recommendation can be found here.