Lasting Legacies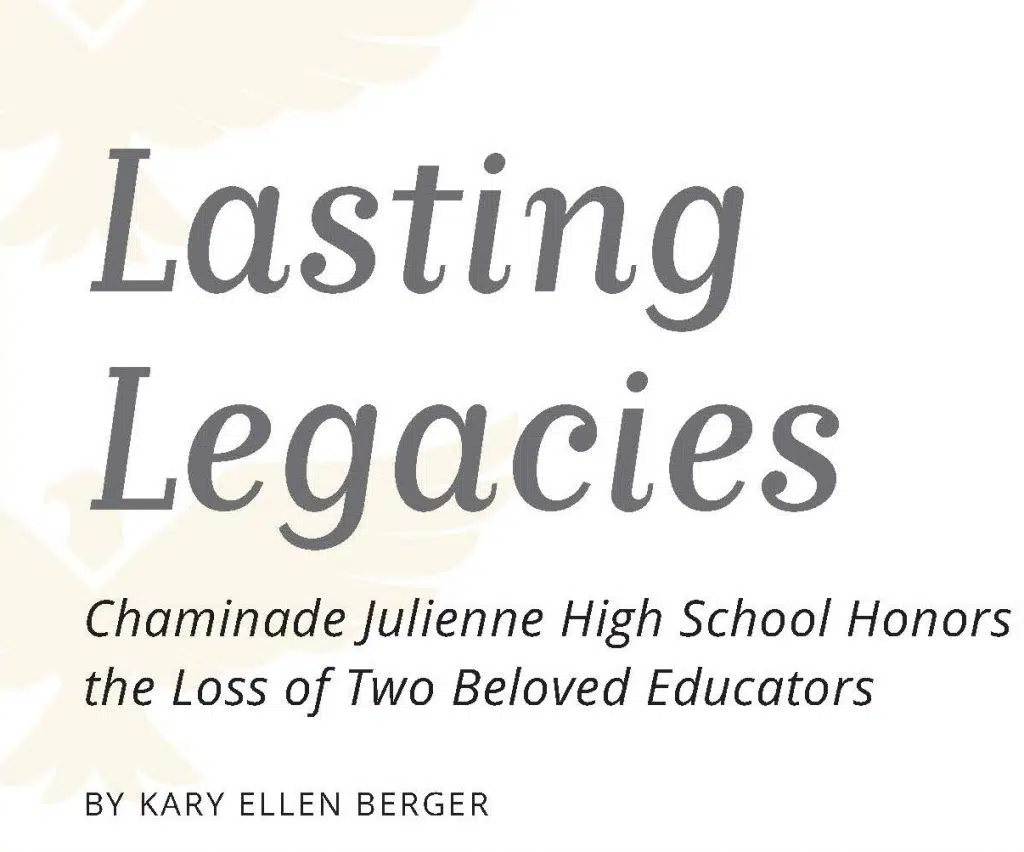 Together they gave a combined 35 years of service to Chaminade Julienne Catholic High School (CJ). But Judi MacLeod and Ann Szabo were much more than their work for the school community — they exemplified Catholic faith and were pillars in the Dayton area.
Szabo passed away on Sept. 15, and MacLeod on Sept.28.
ANN SZABO

Szabo attended Julienne High School and her husband Chaminade High School, both graduating in 1972. The two schools later combined to form Chaminade Julienne, attended by all six of their boys. In 2008, Ann began working in the Alumni and Development office, and was Alumni Relations Coordinator at her passing. She also volunteered as the Freshman Student Council Moderator and supported the school's Grief Group.
More than a staff member, alumna and past parent — Szabo supported students when they needed someone to talk to and was a beacon of hope for many.
"Ann had a special place in her heart for some of our CJ students who needed an extra push to motivate them to persevere through challenges," said Greg Mueller, Principal at Chaminade Julienne. "She helped our students develop grit with a focus on their goals. She was credited by many CJ students for being the reason they made it to graduation day. In short, Ann cared deeply for everyone she met."
Chaminade Julienne President, Dan Meixner, agrees. "She was funny, caring, blunt with love, proud of her family, and a champion of students who needed extra attention or an opportunity to shine."
Also active at her home parish, Corpus Christi, Szabo was an avid sports fan cheering on students from both Corpus Christi and Chaminade Julienne through the years. She was also President of her Five Oaks Neighborhood Improvement Association.
JUDI MACLEOD

MacLeod graduated from Chaminade Julienne in 1988. As a student, she asked the principal when special education would be brought to the school and he retorted that it wasn't going to happen. And it didn't happen, until Judi returned in 1999 to start Cuvilly – an integrated special education program that immerses students with various special needs in the same classrooms as their peers. She directed the program since its inception, growing from a few students to over 100 today.
"Her passion to create a space for those who are little more vulnerable than others in our society was the driver of her work," said former Chaminade Julienne Principal and current Director of Development at the school, John Marshall. "Her example of acceptance, and meeting the students where they were, inspired many at CJ to do the same."
Because of her dedication to serving those with special needs, numerous schools have implemented programs similar to Cuvilly.
Supporting students outside of the classroom as a bowling team coach, MacLeod also sang with the school's faculty and staff choir and received the school's Founders Award at its inauguration in 2014.
Working alongside her husband, Don, while raising one daughter and three sons, MacLeod too was active in her home parish, St. Helen, teaching religious education and involved with Boy Scouts. In addition, she was a member of the Belonging Task Force with the Office for Persons with Disabilities for the Archdiocese of Cincinnati.
"Judi worked tirelessly to ensure that all of God's children have a meaningful place in our Church," said Noelle Collis- DeVito, Associate Director of the Office for Persons with Disabilities. "May we all learn from her example and live our lives to honor the legacy that she has left behind."
Both MacLeod and Szabo left everlasting marks at Chaminade Julienne, the Dayton community, and beyond. They will never be forgotten.
"We know that all things work for good for those who love God, who are called according to his purpose." (Rom. 8:28).
This article appeared in the December 2021 edition of The Catholic Telegraph Magazine. For your complimentary subscription, click here.