Letters about Dad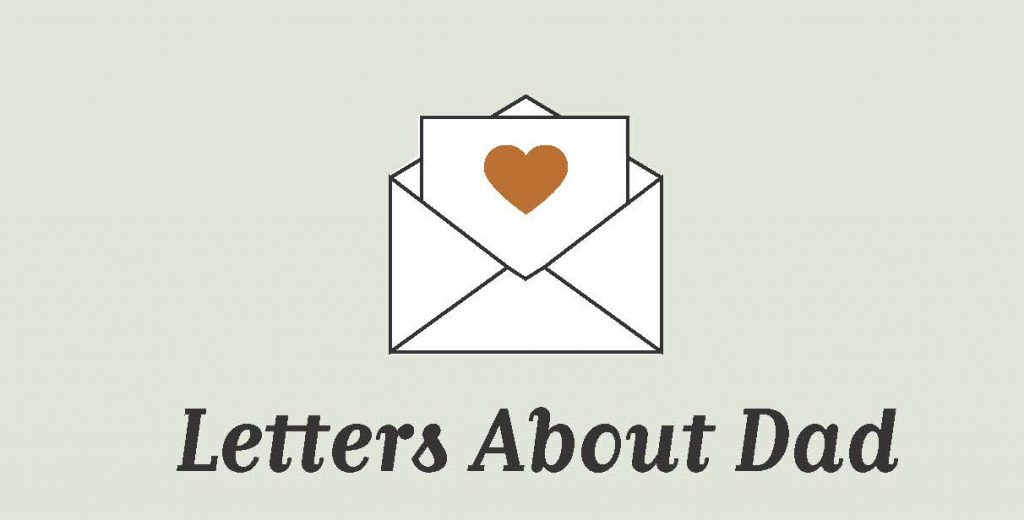 FROM JEAN BUELTERMAN (CATHEDRAL BASILICA OF ST. PETER IN CHAINS)
My dad was kind, generous and loving and never had a nasty word to say about another person. He was a man of great faith. He loved our Blessed Mother. He could fix anything. We used to say give him a Bobby pin and he could fix your car. He was a simple man, but made everything seem like it was golden. He built our home, by hand, from the ground up. He worked for the railroad. In the early days he would travel from Cincinnati to St Louis weekly, but found time to plant a garden and grow beautiful flowers for us to enjoy. He loved us girls, and took care of mom and us with loving hands. He taught my sisters and me everything from driving a car to climbing ladders, and hammering nails and saying the Rosary. I remember him teaching me how to whistle! He had a great bass singing voice and would stand in the kitchen eating Oreo cookies and sing "Old Man River." It was his job, working for the railroad in Indiana, that took him away from us way too young. He wanted to spend time with us at home, so he would commute to work. I remember that December morning when we heard about the accident. I'm sure he had his flaws but I can't remember what they were. We will always love our dad.
FROM GERI SCHICK (VISITATION PARISH)
My father, Jerome Rosenberger, was a workaholic. He worked a full time job, had his own electric business on the side and worked a third job to provide for his family. He would go to work every day, no matter how he felt. If someone in the community called and needed an electrician, he would go to help. He made sure his family always went to church, even on vacations we had to make it to Sunday church to pray for a safe trip. He was always there to give his advice and help if you needed it. He loved his family and his Catholic faith. Christmas was his favorite season and he went to confession frequently. He taught us how important it was to help others in need. He was always on time – he did not like to be late. My dad didn't get to enjoy much retirement, passing away suddenly at 67, but he enjoyed traveling and taking his family on vacations.
FROM ANNE COYLE HORN (HOLY FAMILY PARISH)
My father, Thomas Joseph Coyle, was born in 1921, the second of 11 children. He was a lifelong member of Holy Trinity/Holy Family Parish in Middletown. He was inducted as a private into the U.S. Army in 1942; 313 Battalion; 80th Artillery under General George Patton. He was promoted to sergeant in 1943. His unit received battle honors for fighting in the Battle of the Bulge. In addition, his unit liberated a concentration camp. He was honorably discharged in 1945. He worked as a metallurgist at Aeronca for 24 years and retired from Armco Steel in 1986. After retiring, he and my mother volunteered at Middletown Regional Hospital, delivering Meals on Wheels. My father worked hard to provide my sister, brother and me with a solid Catholic education. He was a member of the parish council and volunteered at the Bishop Fenwick High School festival for many years. One of the things my father was most proud of was being a deacon. He was a graduate of the very first diaconate class of 1975. He served as a deacon at Holy Trinity/Holy Family parish for 30 years. The best lesson my father taught me was to be of service to others. He served his country, his community and, most importantly, God. This lesson has inspired me all of my life. My father entered eternal life in 2013. Three priests celebrated his funeral Mass and 11 fellow deacons were in attendance. I could hear God saying "Well done good and faithful servant!"
FROM MARJORIE TEPE WELDIE (ST. ALBERT THE GREAT PARISH)
My father, Bernard Tepe, showed the meaning of marital love in such a special way. My mother suffered from dementia for a good portion of their final years together. My father was devoted to making sure she was taken care of by going every day to the nursing home to see that she was dressed with her hair combed. He went daily to feed her lunch and dinner, and absolutely nothing stopped him from fulfilling his mission to care for her. Dad felt that no one could care for mother the way he could and that, despite her dementia, she knew who he was when he went to see her. After nine years in a nursing home, my mother passed away. I think Dad felt his duty was fulfilled as he died just nine months after Mother. Today my husband and I have been married 55 years and I know my dad's example of loving my mother greatly influenced us in our marriage. Thanks, Dad, for showing me the love of a husband, like St. Joseph, in giving totally of yourself to your wife.
FROM MATTHEW RUTTLE (ST. RITA PARISH)
Our father, Patrick Joseph Ruttle, was a man of humor, deep faith, compassion and love. He, and our Mother, Yvonne, truly "enfleshed" what it means to be a disciple of the Lord. My father always made room in his life and heart for my mother, our family and those suffering in our community. He always worked to bring out the good in others through jokes, singing, fun parties and in good dialogue. He was – and still is from heaven – a sure guide on what it is to be a man of family, faith, work and enduring love. I miss him – and my late mother too. Pray for us! Watch over us!
FROM BERNARD RIESKAMP (OUR LADY OF VISITATION PARISH)
Mom and Dad raised a family of six boys during the 1950's. My two sisters were born in the 60's, making us a grand total of eight. Raising a large family was a loving challenge my parents carried out with discipline, respect and affection. Dad was a Cincinnati policeman and worked a second job as a groundskeeper for a large estate. He worked many hard, long hours, but always, somehow, made time for his family. Car trips and rides to one of the many local parks were our family's most anticipated and best-loved form of entertainment. Once a week or so, dad would load up the kids in the family station wagon and take us on rides in the countryside or to a park. Slowly driving down our street, the neighborhood kids shouted out to us as we passed by: "Where are you guys going?" With a big smile on his face, dad shouted back: "To the moon, we're going to the moon!" The family members laughingly parroted dad's statement: "We're going to the moon." About 20 minutes later we passed by The Moon Tavern. What fun simple times we had. I'll always remember one of dad's favorite lectures: "It's the simple things in life that are important. You can have all the money and possessions in the world but if you lose your soul, you have nothing. Always remember to honor God, family and country, and in that order!" It still rings in my ears to this day. Dad taught me the importance of hard work. "You'll better appreciate the things you work hard for and earn. But remember, they're only things. The intangibles are important; love & friendship! The older you get, the more you'll understand." "Respect all people and all living things."
FROM JARROD LUX (ST. PETER IN CHAINS)
I have been blessed to have excellent fathers in my life, all of whom resemble St. Joseph: my grandfathers, Bill and John, and my father-in-law, Conrad. I write to you today about my own father, Jerry Lux. Our parents are the first images of God for us, and if God chose St. Joseph to be His human father, He had to have seen much of Himself in St. Joseph. Our Savior learned the value of hard work, dedication, and perseverance from him, and the "passion" with which St. Joseph lived his life must also have been a reflection of the "Passion" of Jesus. Dad, likewise, used his passion of baseball to teach me important life lessons. Be courageous: When I stepped out of the batter's box in fear, he put a bat behind my feet to ensure I stood my ground and faced that fear. When I felt ashamed for having to relearn how to hit by using a tee, he told me that even major leaguers have to relearn fundamentals sometimes to break through a slump. When I would lollygag on the field, his enthusiasm compelled me to hustle. When I would lose faith in my ability to play, he never gave up on me, and he never let me give up on myself. Years later, I can still see and hear Dad rooting and encouraging me from first base, his words instilling me with confidence. His insight and wisdom now help me hit line drives, despite the curve balls life pitches to me. If they play baseball in Heaven, I'm sure St. Joseph will recruit my father when he arrives. Thank you for giving me the opportunity to share my thoughts on St. Joseph and my awesome dad, Jerry.
FROM LINDA (ST. HENRY PARISH)
I am the oldest of five children in our family. My father owned a drug store and worked on Sunday. When I turned 13, I went to work with him on Sunday morning, so regular Sunday Mass was hard to attend. He would take me to midnight Mass in the city at one of the large churches downtown. It was a special time we shared together.
FROM MORGAN KRICHBAUM (ST. BERNARD PARISH)
My father, John, is an outstanding example of a loving, patient, selfless, contemplative, and wise man. Everyone who encounters him benefits from his characteristic reflection of Christ. As I prepare for new life adventures – including marriage and geographical relocation – I am honored and challenged to reflect the light and love of our God that dad has exemplified throughout my life.
These letters appeared in the March edition of The Catholic Telegraph Magazine. For your complimentary subscription, click here.