Local service to celebrate beatification of Oscar Romero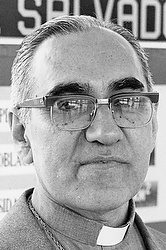 Report
The Catholic Social Action, Mission, and Family and Respect Life Offices, and the Society of St. Vincent De Paul, will participate in a celebration "In the Sprit of Romero," 7-9 p.m. Wednesday, May 20, at Bellarmine Chapel on the campus of Xavier University.
Archbishop Oscar Romero of El Salvador, who was martyred in 1980 while celebrating Mass, will be beatified May 23 during an open-air Mass in San Salvador. The celebration of the Christian witness of this Servant of God will be an evening of prayer and celebration to lift up the living Gospel, both Romero's example and the many social justice ministries of the Church here in our Archdiocese.
Participants will pray for our work for the poor and hungry, the unborn, those on death row, returning citizens, immigrants, the environment, and more. The St. Leo Church band, Ministerio Creación, will perform.
Archbishop Romero, an outspoken advocate for the poor, was shot and killed March 24, 1980, as he celebrated Mass in a hospital in San Salvador during his country's civil war. Romero's sainthood cause began in 1993, and continued for years as church officials combed through thousands of documents related to his life. The effort began moving forward under Pope Benedict XVI. In May 2007, he said: "Archbishop Romero certainly was a great witness to the faith, a man of great Christian virtue."
Posted May 6, 2015
The Archdiocese of Cincinnati and The Catholic Telegraph staff contributed to this report.