Throwback Thursday: Archbishop heads to Rome for Holy Year of 1975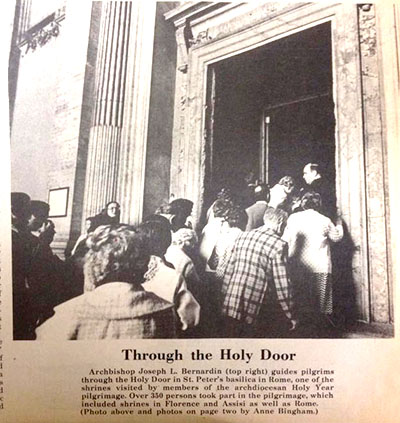 Staff Report
The association of a Holy Door with jubilee years in the Catholic Church dates back to sometime before 1475.
Each of the four papal basilicas in Rome has a holy door that is usually sealed shut, until a jubilee year, when it is opened and pilgrims passing through it may gain an indulgence in connection with the jubilee.
For today's Throwback Thursday, we submit this image of then-Archbishop of Cincinnati Joseph L. Bernardin leading pilgrims from the Archdiocese of Cincinnati through the holy door at St. Peter's Basilica in Rome during the jubilee year of 1975. The image appeared in the May 2, 1975 edition of the newspaper. According to the cutline, more than 350 persons participated in the pilgrimage to Rome.
In December of this year, Pope Francis will open an extraordinary jubilee Year of Mercy wherein the door seen above at St. Peter's Basilica (and doors at the other three papal basilicas) will be opened.
Those unable to travel to Rome will still have an opportunity to pass through a holy door locally.
In Misericordiae Vultus, Pope Francis' Bull of Indiction announcing the Jubilee of Mercy, he wrote, "I will announce that in every local Church, at the cathedral – the mother church of the faithful in any particular area – or, alternatively, at the co-cathedral or another church of special significance, a Door of Mercy will be opened for the duration of the Holy Year. At the discretion of the local ordinary, a similar door may be opened at any Shrine frequented by large groups of pilgrims, since visits to these holy sites are so often grace-filled moments, as people discover a path to conversion."
The Jubilee of Mercy will run from Dec. 8, 2015 until Nov. 20, 2016.
The first jubilee year was established by Pope Boniface VIII in 1350 and regular jubilees have taken place generally every 25 years since (though at first it was every 33 years). The last holy year, the Great Jubilee, was proclaimed by Pope John Paul II in 2000.
Welcome to The Catholic Telegraph's edition of Throwback Thursday. Throwback Thursday is a weekly online activity wherein users of social media share an old photo or anecdote about times gone by. We use Throwback Thursday to highlight the history of the Archdiocese of Cincinnati, and our publication.
Recent Throwback Thursdays
Cathedral under construction
Birth of a papacy
A Tower of Faith
The Death of John Paul II
Archbishop Elder's Sick Call Box
Posted May 7, 2015