March edition features full lineup of stories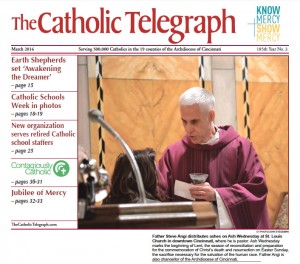 The March print edition of The Catholic Telegraph hit mailboxes last week with a full lineup of news, commentary and features.
Among the highlights of the issue is the center spread. Two full pages of photos from Catholic Schools Week Masses in the Archdiocese of Cincinnati last month show the vibrant faith of the archdiocesan youth.
The March print edition also featured the return of the Body & Soul feature after a multi-issue hiatus. Body & Soul is a feature that highlights members of the faithful who nourish others through their ministries, other food related topics.
In this issue's Body & Soul you'll meet the Corpus Christi Fyers, a groups of men that operate Catholic fish drys around the greater Dayton area.
Other features include a look at the life of a now deceased 92-year old parishioner's legacy at St. Anthony in Madisonville, the story of a bee keeper priest, and a print-exclusive feature on the 1916 Easter Rising in Ireland complete with a list of local events marking the centennial.
In this issue you can read about a Vatican sponsored sports ministry conference, the first of its kind worldwide, that will take place at the Athenaeum March 30 to April 1. There's also an Everyday Evangelist story on a hospice nurse that teaches others how to be present for the dying and we introduce you to the Retired Catholic School Employees Association, a new group that fosters a connection between these retirees and the communities they served.
In commentary, the March edition marked the final "A Question of Faith" column by Father Earl Fernandes, who is moving on to work for the nunciature in Washington D.C. Offerings from Jeanne Hunt and Michael Daley are included and the Vocations View column this month is written by Associate Director of Vocations Wayne Topp.
Many, but not all, of the stories from the March 2016 print edition will appear online over the course of the next month. To make sure you don't miss a single story, subscribe to the print edition HERE at no personal cost.