Mary Garden Contest Underway!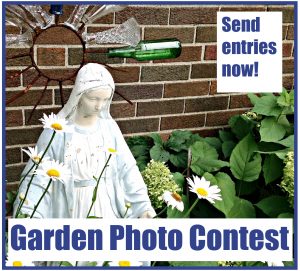 The Catholic Telegraph is now accepting entries in our first-ever Mary Garden photo competition. Is your Mary Garden still a mess from winter? Send photos from last year! Are you still in Florida or some other hot clime for the winter? Send a photo of your tropical garden! Did you just plant or freshen your garden? Send photos anyway! Are you thinking of planting a new Mary Garden or putting together a container garden? Snap a photo and send it in — you can send updates as it grows. We'll post all entries on our Facebook gallery (see the first entries here), so check back often for planting ideas.
Here are the rules:
Who can enter? Any readers of "The Catholic Telegraph," from anywhere in the country.
What are we looking for? Photos of your garden featuring a statue of Mary or other Catholic statues, plantings, or elements. Enter as many photos as you like, as often as you like throughout the gardening season. Photos should be of a garden you planted, not a garden you visit (at a church or cemetery, etc.)
Winners: Three winners will be announced in the June, July, and August issues (9 prizes total). Winners from one month are eligible to win in subsequent months.
First prize will be a $50 gift card; second and third prizes will be $25 gift cards.
All entries will be posted in a Facebook photo gallery with the photographer's name.
By entering this contest, you grant The Catholic Telegraph permission to use your submitted photos online and in print.
SEND ENTRIES TO: [email protected]