Mercy high schools to merge: Sisters: Cincinnati can no longer support three West Side girls' school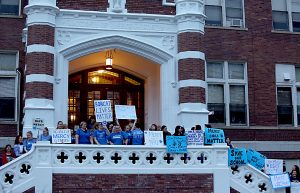 By Eileen Connelly,OSU
For Mercy and McAuley high schools, the focus is on the future.
The Sisters of Mercy announced a merger between the two all-girls schools at a March 2 press conference. Both will maintain current operations for the remainder of this and next academic year. Then, in the fall of 2018, Mercy will close and the new Mercy McAuley High school will open on McAuley's College Hill campus.
Susan Gibbons, director of educational services and superintendent of Catholic schools for the archdiocese, acknowledged how difficult the news was for both communities in a statement. "They are losing something familiar and being challenged to embrace something new and different, especially those who will be moving to a new school building in the 2018-2019 school year," she said.
"However, this decision assures that a strong Catholic education in the Sisters of Mercy tradition will continue to be available to young women on the western side of Cincinnati. For that, the Archdiocese of Cincinnati is grateful."
Sister Deborah Kern, a west side native and 1972 Mercy graduate, said she knows people were surprised and angered by the announcement, and she understands.
"The Sisters of Mercy care very deeply about young women and education," she said. "We've given our lives to it."
The sisters "agonized over when to break the news," she said, "We believe the timing was in the best interest of the students, the families, and everyone involved. The girls have always been at the front of our minds. We made the decision we did so Catholic Mercy education could continue here."
Mercy alums were quick to respond. Sarra-Ann Mueller, who graduated last year, started an online petition, "Save Mother of Mercy High School." that had garnered more than 2,600 signatures at press time.
"Mercy had a big impact on my life. I cried when I heard the news," she said. "I'm hoping that my Mercy sisters sign and share their comments. I just want everyone to have a voice and know they are part of Mercy no matter what."
Alumnae Ann Marie Whyle and Angela Heinz founded a Facebook page — MMH: Maintaining Mercy's Heritage — for fellow alums that has more than 3100 members. And on March 9, dozens of Mother of Mercy parents, students and graduates gathered on campus in support of their school. (See TheCatholicTelegraph.com, for photos.)
While the decision has been difficult for everyone, demographics no longer support three all-girls Catholic high schools (Mercy, McAuley and Seton) on the city's west side, Sister Debbie said.
"There are fewer Catholics, families are smaller, and many have moved to the suburbs," said Tom Otten, retired Elder High School principal, who is leading the schools' transition team. "Incoming classes have decreased in recent years," he said, adding that there were 87 students enrolled for the class of 2021 prior to the announcement. Because the merger was announced after parents had already paid a tuition deposit, school officials say refunds will be made to those who want them.
Both Otten and Sister Deborah understand the love members of the Mercy community have for their historic school building. But due to years of deferred maintenance, they pointed out, it would
cost an estimated $4 million to bring the facility up to standards, and much more to continue to maintain it.
"I have great affection for my school and understand the desire to preserve the building, but we don't have the resources to preserve it as a school," Sister Deborah. "We are working with Westwood leaders and neighbors to determine what the community needs to preserve it for another use."
Meetings with members of both school communities were held the week after the announcement to address concerns and answer questions.
"It's been incredible for me to witness the love that everybody has for both of these schools," Otten said. "It's so affirming. They've gotten a lot out of their Mercy education and want to see it continue for both Mercy and McAuley, and the sisters intend to do that."
Besides Otten, the team also consists of Wayne Morse, a retired P & G executive who now works in the archdiocesan School's Office; Denise Krueger; a McAuley grad and math and science professor at Mount St. Joseph University; and Cindy Costello, assistant director of the Ministry Office for the Sisters of Mercy. The sisters are currently working to identify a fifth member with a strong connection to Mercy High School, Sister Deborah said.
Otten said the transition team is in the process of setting up subcommittees to address academics, athletics, transportation, student life, and other matters. Each subcommittee will be comprised of eight to 10 members with representatives from both schools — students, parents, alums, faculty staff, along with local community members.
"The decision has been made. Now we have to figure out the pieces," he said. "We plan to involve people of all sorts to ensure that every voice is heard.
"My best hope is that we find ways to engage everyone going forward and find ways to heal," Sister Deborah added. "We're praying for God's wisdom."