My Journey: Saints were her 'gateway drug'

By John Stegeman
The Catholic Telegraph
Amy McEntee's parents were Church of the Brethren Sunday School teachers who instilled a strong love of Christ in her from an early age. Her faith life moved along smoothly until a rift opened her to other experiences of Christianity.
"There was a rift in the church I grew up in," McEntee said. "My boyfriend in high school was Lutheran and I would get up on Sunday mornings and go with him… I really just started exploring a lot of faith questions at that point."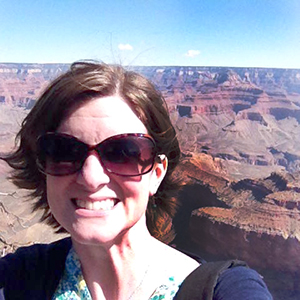 After high school McEntee received a scholarship to the University of Dayton. She continued exploring her beliefs, expecting to be affirm in the faith of her youth.
"The questions just kept getting more complicated because I was around these people who had a much different faith tradition than I did," she said. "Through that process, and asking a lot of people about saints, that was kind of my gateway drug.
Read previous My Journey features
— Husband can't deny wife's faith
— For Hartman, conversion has been a lifelong experience
— Evangelized by dead people
— Cursillo crucial to Bishop Binzer's journey
"The moment that it hit me was not specifically about the recognized saints, but the concept of the communion of saints," McEntee said. "That we believe our faith to be, and our relationship with God to be such a powerful force, that it transcends even the grave. Because of what we believe about Jesus, it makes perfect sense to me. It was this moment where I was like 'Of course! We have these connections.'"
Though she attended Mass in college, it wasn't until after graduation that McEntee became Catholic. It took five years and three rounds of RCIA.
"I did not finish twice, and the third time it stuck," she said. "God was calling me to be Catholic and that was a little bit scary."
McEntee's relationship with saints may stretch back to her childhood, though she didn't know it at the time.
She was six and living in Connecticut when she awoke in the middle of the night. A closet door was open, but curiously the automatic light inside was not lit.
"This figure came out of my closet and walked over and was standing next to my bed. He was dressed in brown and he had a belt with knots. He made this gesture, like 'Come follow me, come with me," she said, noting the experience was not frightening. The incident didn't carry any particular meaning until much later.
"When I was a student at UD and went to Mass at St. Francis (of Assisi parish) for the first time with a then-boyfriend… there was this statue besides what used to be the back entrance," she said. "I asked, 'Who's that guy? He came out of my closet when I was six years old.'
"I never forgot it, and I knew his image when I saw it," she added.
Even with such confirming faith experiences, McEntee's conversion wasn't without incident. Her parents disagreed with her decision to convert.
"I lovingly refer to that period of life as the holy wars,"  McEntee said. "I practice my faith, my parents practice what works for them."
McEntee is now the Assistant Director for the Archdiocese of Cincinnati Office of Evangelization and Catechesis and Executive Director of the National Catholic Young Adult Ministry Association. She calls those on their own faith journeys to Catholicism, but takes a unique approach.
"One of the things I say to those considering Catholicism is there's no rush," she said. "There's no rush… But it goes both ways. Don't write it off quickly either. There's a depth and a richness here… Be willing to sit in some of the ambiguity for a while because there's a lot of grace that comes from that, from spending that uncomfortable time with God and other people. Really hear and listen to what they're about, rather than just writing them off as crazy people who had a saint come out of their closet when they were six years old.
"This is a great journey, and there's so much more," she added. "We have a God of surprises, and they are delightful surprises. There's always more and it gets better… Keep pursuing this relationship with this amazing incredible God who has so much abundance that's just waiting for us."
This My Journey feature originally appeared in the May 2015 print edition of The Catholic Telegraph