Religious on the run for peace, justice and vocations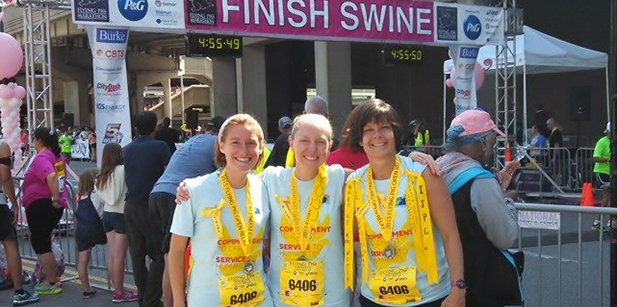 Report
Religious life is alive and well in the Archdiocese of Cincinnati.
For the second year in a row, women religious in the Archdiocese of Cincinnati donned their running (or walking) shoes for a good cause. Fifteen sisters from different congregations participated in the recent Flying Pig Marathon for Team IJPC, the Intercommunity Justice and Peace Center. Their participation was sponsored by the SC Ministry Foundation.
IJPC is a nonprofit organization originally founded in 1985 by five local congregations of women religious to work for a more just and peaceful world through education, advocacy, and action. In the last 30 years, their commitment has not wavered, and their impact and web of collaboration has grown.  Director Allison Reynolds-Berry said, "IJPC was founded by religious sisters and they, very literally, keep us running today. We are grateful for their energy, compassion, and the many gifts they bring to bear."
All money raised by the religious who participated in the Flying Pig goes to support IJPC's ministry.
Four of the participating sisters — younger, newer members in their congregations — ran the four-person relay, placing 15th in their group.  But their decision to do this was about far more than the run itself.
"We deeply love God and our vocation, and we want to show others that religious life is still a vibrant and viable option for the Catholic women of today," said Sister of Charity Tracy Kemme, who is about to profess first vows. "Especially in this Year of Consecrated Life, the run was a great way to do something positive with the wider community and to share our passion for the life to which we've been called."
The younger sisters wore shirts and ribbons with the theme for the Year of Consecrated Life, "Wake Up the World!" They carried in their hearts the other 20 young women religious in the archdiocese and all who are discerning a call to religious life.
Sister of Charity Andrea Koverman,  also preparing for first vows, said, "Participating in the Flying Pig is so much fun and is reflective of my experience of religious life: working alongside diverse people, doing something for a good cause, raising awareness and addressing needs, and sharing the joy of living a Gospel-driven life."
These religious aren't the only ones running for a good cause. Run for the Call, a ministry of the Archdiocese of Cincinnati also participated in the Flying Pig and other running related events during the Easter season.
This article originally appeared in the June 2015 print edition of The Catholic Telegraph.