Sister, priest involved in Hispanic ministry honored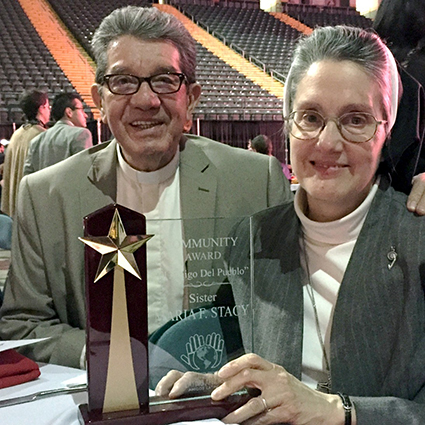 By Mary Bertolini
For The Catholic Telegraph
Sister of Notre Dame Maria Francine Stacy, director of Catholic Hispanic Ministries in the Dayton area since 2002, was given the El Amigo del Pueblo award from Wright State University's Office of Latino Affairs. Her work has been a daily living out of the commitment of the Sisters of Notre Dame to lend "hands and voices to our Hispanic sisters and brothers."
She has built up a wealth of experience through the years that has helped her make connections with social service agencies, lawyers, police, and support groups, all for the purpose of assisting Latinos in their social and civil struggles. Sister Maria is co-founder of El Puente (The Bridge), a program of collaboration involving Hispanic Catholic Ministry, Dayton Public Schools, and Wright State University, that provides after-school tutoring and supplemental academic outreach to students in K-6. The El Amigo del Pueblo award is in recognition of Sister Maria's strong advocacy for the Latino community and her invaluable service as an instrument in connecting the Office of Latino Affairs to the large population of Dayton Latinos.
Comboni Father Louis Gasparini, director of Hispanic Ministry for the Archdiocese of Cincinnati, was presented the 2015 César Chávez Award by Su Casa Hispanic Center, a program of Catholic Charities of Southwestern Ohio. With this presentation, Su Casa recognizes the dedication, commitment, and hard work Father Gasparini has given to the Hispanic community on a daily basis since 2011. His job has never been a behind-the desk kind but rather a face-to-face encounter with both the people he serves and those who serve in collaboration with him.
"This award has my name on it, but it belongs to many people throughout the archdiocese who have worked faithfully alongside me, sometimes in the face of great challenges," he said. "They are the communicators within and across cultures, and they have played a major part in opening the door of opportunity for Latinos to become active members and leaders in our church."
In his capacity as Director of Hispanic Ministry, Father Gasparini works to help integrate Catholic Hispanics into the many aspects of parish life, including sacramental preparation; liturgy and music; religious education and faith formation; youth ministry; evangelization; and catechetical and pastoral leadership.
This article originally appeared in the June 2015 print edition of The Catholic Telegraph.