Photo Friday: Hear in the silence at Old St. Mary's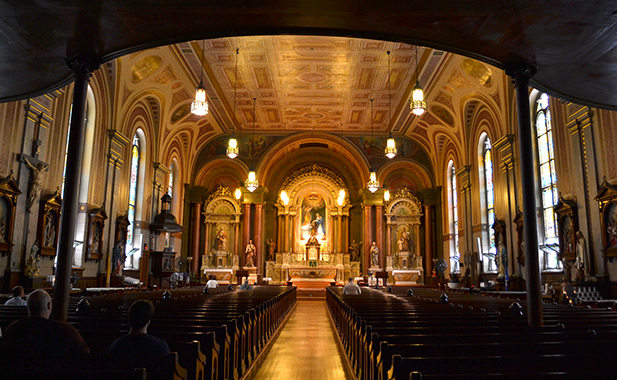 Staff Report
"Hear in silence, and for thy reverence good grace shall come to thee." — Sirach 32:9.
On an overcast Wednesday afternoon, a muggy haze surrounded much of Over-the-Rhine, a diverse neighborhood in downtown Cincinnati. A block north, two police cars and a coroner's unit dealt with their work while a block west, men and women in business formal attire ate their lunch to the sounds of never-ending construction.
Inside Old St. Mary's Catholic Church, Mass had just ended. While the ornate stained glass windows were open to deal with the heat, little sound seemed to permeate the church. The creaking floor beneath the feet of a penitent going from the confessional to the pew was the only sound besides that of The Catholic Telegraph photographer's camera lens.
The image accompanying this Photo Friday posting was taken to accompany a story you'll find in the July edition of The Catholic Telegraph about Old St. Mary's seeking designation as a minor basilica, an effort supported by Archbishop Dennis M. Schnurr.
The photographer, John Stegeman, was taken aback by the reverent silence of the church during his June 17 visit.
"I try to be discreet when photographing a church with folks praying in it," he said. "On this visit, it seemed almost as if those in the pews were praying so intently, that they didn't notice I was there. I like this photo because it shows Old St. Mary's as more than just a beautiful building, but as a reverent, sacred, living space of great use to its community."
Previous Friday Photos
Commit your work to the Lord
Take me out to the ball game
Summer nights, festival lights
Taking the Plunge
Cinco de Mayo
Welcome to Friday Photo. A post where The Catholic Telegraph staff select an image that shows the vibrant life of the faith community in the Archdiocese of Cincinnati, and around the world. To submit a photo for consideration, email John Stegeman with "Friday Photo" in the subject line.
Posted June 19, 2015