Pope speaks as a pastor in call to protect earth, USCCB president says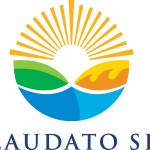 By Dennis Sadowski Catholic News Service 
WASHINGTON — Pope Francis speaks with a pastor's voice and with deep respect for science in calling the world to address threats to all life on earth through environmental degradation and the mindset of a "throwaway culture" in his encyclical, said the president of the U.S. Conference of Catholic Bishops.
Archbishop Joseph E. Kurtz of Louisville, Kentucky, said during a June 18 news conference in Washington that the encyclical, "Laudato Si', on Care for Our Common Home," also urges people to remember that "we have a shared responsibility for one another" while calling for "urgent action" to work for the common good and the betterment of the planet.
He said the document is meant to be a valuable teaching tool and moral guide for "generations to come."
"He's painfully aware of what's happening to our world and that we need to grow in solidarity, responsibility and compassionate care," the archbishop said.
"He's speaking to all of us now. What does it mean? It's marching orders for advocacy."
Cardinal Donald W. Wuerl of Washington also addressed reporters and said that as he read the encyclical he immediately thought of the magnificence of God's creation and how everyone must take steps to protect it.
"Our Holy Father is speaking out of our Catholic tradition," the cardinal explained. "But if you read the document carefully, he is not saying to individuals whether you are in the economic area or the political area, 'You must do this.' He is saying, 'Here is the moral frame of reference. I would like everyone to work together on this so that we individually would come to the conclusion this is the way things should be.'"
While the pope sounded an urgent call for action is urgent, Cardinal Wuerl told Catholic News Service he interpreted it as a call for conversations to begin on how to address the challenges facing the planet ecologically and economically.
"The urgency is to get started today," he said. "That means it's going to take a little bit of time."
The encyclical provides an opening for people to cross political divides to discuss solutions to the challenges posed by climate change, polluting industries, drought brought on by changing weather and the failure to respect all of human life, Archbishop Kurtz told reporters, saying that solutions are not likely to come quickly.
"We need to give ourselves time, all of us including the bishops, to be able to reflect and read and study (the encyclical)," Archbishop Kurtz said. "Those who take this studying seriously I think will find an invitation to dialogue."
Various parish and school study guides, homily aids and online resources have been developed by the USCCB and its partner, the Catholic Climate Covenant. Both prelates said the materials will help initiate those discussions.
Archbishop Kurtz said the formation of young people on the environment particularly will be important in the months and years ahead.
"What kind of world are we going to leave to those who come after us?" he asked.
Christiana Peppard, assistant professor of theology, science and ethics at Fordham University, described the pope's message as pastoral and poetic, as has been his style since his election, and follows in the footsteps of his predecessors, particularly Pope Benedict XVI, who has been described as the "green pope."
"He is attempting to take a global look at planetary problems," said Peppard, one of three experts who appeared at the news conference to address questions on particulars of the document. "His views are not merely from a North American perspective."
Pope Francis questions "short-term economic yield that leaves a trail of environmental destruction behind, which disproportionately affects the poor and vulnerable," she said. "That's an important part of the idea that the few must not profit at the expense of the many."
She noted that the pope draw upon the words and experiences of people around the world. The encyclical cites documents from the bishops' conferences of Argentina, Bolivia, Paraguay, Southern Africa, Germany, Philippines and the United States.
"The question of whose voices get to be heard is important" to Pope Francis, she explained. "These folks have expertise on how the Gospel looks and the imperative to care for one another."
Posted June 18, 2015