NET Ministries to open new office in Cincinnati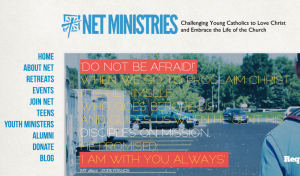 By John Stegeman
The Catholic Telegraph
As initially reported in the December 2013 edition of The Catholic Telegraph, the youth evangelization organization NET Ministries will be opening its first regional office in the United States in the Archdiocese of Cincinnati in July.
NET Ministries' (NET stands for National Evangelization Team) mission statement is "to challenge young Catholics to love Christ and embrace the life of the Church." Toward that end, 12 teams of young adults travel the nation leading retreats for young people. In addition to the traveling teams NET Ministries sponsors a pair of teams that remain in single parishes and schools for the year. NET Ministries reaches roughly 60,000 youth each year. With the opening of the Cincinnati office, they plan to expand their reach.
"With this expansion of NET Ministries coming to Cincinnati, next year we're hoping to add two more teams, which will bring us up to 14," said Ryan Lopez, who will be the regional coordinator of the Cincinnati office when it opens in July. "By the end of our five-year plan we're hoping to get to 16 teams traveling the country."
The plan will include a California office and NET Ministries hopes to increase its reaching to 90,000 youth.
NET Ministries isn't new to Cincinnati or to Archbishop Dennis M. Schnurr. The group has been active year for a couple of years and the archbishop has been on its board of directors since his time as Bishop of Duluth in Minnesota. Lopez said NET Ministries led 40 retreats in the 19-county archdiocese last year and aims for 60 this year. With the new office, he sees potential for NET Ministries to lead 100 to 120 retreats in the archdiocese.
"NET Ministries has been active in the Archdiocese of Cincinnati for several years now," Archbishop Schnurr said. "As one who has been familiar with their fine work in peer-to-peer ministry for some time, I am grateful that they are here and pleased that they are even opening  a regional office in Cincinnati."
Lopez said Archbishop Schnurr was integral in bringing NET Ministries to Cincinnati.
"He's really been an advocate for youth ministry and trying to just energize the young people," Lopez said. "I can tell just from my experiences with him that he really knows the young people are the church of today and the future too."
The Cincinnati branch, which will be located in downtown Cincinnati at the main office of the archdiocese, will include Lopez and Catherine Speltz. Lopez and Speltz are engaged and will marry in May.
This article originally appeared in the February 2014 print edition of The Catholic Telegraph.