Meet the Moms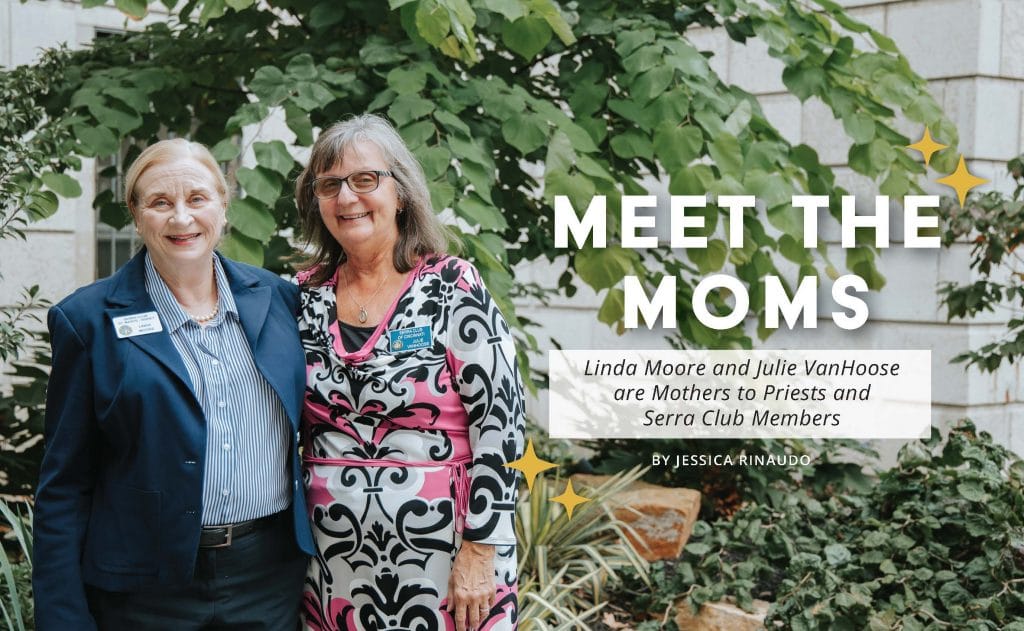 "I always encouraged my kids to be who they were created to be… share what they are and what they have with God. Everyone has their own gifts, so whatever that is should be used to bring glory to God's name and bring people to the Church."
These words were shared by Julie VanHoose, mother to Father Chad VanHoose, of the Diocese of St. Paul, and two married daughters. VanHoose and Linda Moore, mother to Father Ethan Moore, of the Archdiocese of Cincinnati, always centered their lives around Catholic faith and prayer, using them to encourage their children along the paths God wants for them.
Both Moore and VanHoose prayed the rosary with their families and always attended Mass on Sundays, even while on vacation.
Even though Moore said she raised her family in the faith, she was surprised to learn that her son, Ethan, might have a vocation to the priesthood.
"Father Earl Fernandes was his high school teacher at Lehman Catholic High School. We sat down for an end- of-the-year parent meeting and he said, 'Well if anyone in the entire school has a vocation to the priesthood, it would be Ethan.' And of course, I almost fell off my chair," Moore laughed.
She said Ethan went on to college for nursing, but despite earning top grades throughout high school and college, he struggled to pass the second-year technical examination.
"I think God blocked him. Of course, the teachers said that never happens, so they gave him three tries. He couldn't pass. He was pretty devastated," said Moore. "The last two years of his college, he took philosophy and theology and got degrees in both of those… After that, he graduated and had a girlfriend, a fiancé, and was in the real world for a while."
But, she said, a trip to Medjugorje while spending a semester abroad confirmed Father Ethan's vocation. Through proud tears, Moore said, "One of the seers there said, 'I feel within this little group… one of them is going to be a priest.' Then he got a pain in his heart and said, 'It's me.'"
VanHoose said that when Father Chad was a child everyone thought he would become a priest, yet she saw his special love for seniors and thought he might be called to work in geriatrics. Before leaving for college, Father Chad told his mother, "Mom, if I was called to be a priest, the Lord would put obstacles in my way and I wouldn't be going to college."
But hosting NET ministers for 25 years in their home made an impact on Father Chad. "After college he went to St. Paul and was a NET missionary for one year, and then on staff [at NET] for six," said VanHoose.
Originally Father Chad told his parents he felt called to marriage, then he came home one Thanksgiving and said, "Mom and Dad, I've got something to tell you. I'm going to enter the seminary in the fall."
"The number one reason that he is a priest, I feel it in my heart, is that we had that joyful, loving pastor," said VanHoose. "We had a holy Lebanese priest who was a beautiful witness of what a pastor is. Chad loved him and still has a picture of them on his First Communion day at his work."
Even before their sons became priests, both Moore and VanHoose prayed often for vocations and were involved with vocation-related ministries. That ultimately led them to join the Serra Club, an international organization recognized by the Holy See as the global lay apostolate for vocations in the Catholic Church.
"We are lay men and women who are praying, nurturing, supporting vocations to the priesthood and consecrated religious life. But not just that, holy families, too," said VanHoose.
Active across the archdiocese, including in Sidney where Moore resides and in Cincinnati where VanHoose lives, the Serra Club gathers year-round to not only pray for vocations, but also spread awareness and educate youth about being who God is calling them to be. They host banquets following priestly ordinations and provide a large dinner for priests before the annual Chrism Mass so that all priests can visit with one another.
In the northern deaneries, the Serra Club sponsors Stations of the Cross for Vocations at Maria Stein and provides scholarships for those who otherwise might be unable to afford the time of discernment as seminarians and men and women pursuing religious vocations.
"I feel like it's a calling. I'm participating with the Lord to pray for these young men and women listening where God is calling them. Also being able to affirm and love our priests," said VanHoose.
The Serra Club is always looking for new members. Learn more: In St. Marys and Sidney Deaneries: Linda Moore at (937) 538-1416. In Cincinnati deaneries: Julie VanHoose at [email protected]
This article appeared in the November edition of The Catholic Telegraph Magazine. For your complimentary subscription, click here.