New compact Catholic prayer books shipped to military chaplains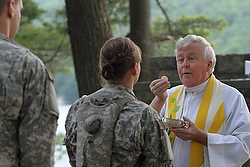 By Catholic News Service 
WASHINGTON (CNS) – U.S. military chaplains around the world are receiving copies of new "Armed with the Faith" prayer books for Catholics in the armed forces.
The pocket-sized booklets are described by the Archdiocese for the Military Services as "virtually indestructible, waterproof, flip-top prayer books, designed for use in the most rugged conditions, including hard battle."
The book has more than 70 prayers, including some for specific occasions such as time of war, or for one's family. It also explains how to pray the rosary and a guide to the sacrament of penance. The book has explanations of Catholic teaching on subjects such as just war, the sacrament of marriage, and reference material on works of mercy, virtues and holy days of obligation.
Its last few pages include an assortment of classic hymns, an appendix with a list of patron saints for the military, and new Mass responses adopted in the United States in 2011.
Archbishop Timothy P. Broglio blessed the boxes of books in the loading dock of the pastoral center of the Archdiocese for the Military Services on May 8, said a statement from the archdiocese.
He thanked the Knights of Columbus for providing the books and paying for them to be shipped. The Knights have covered those costs since 2004, making about 500,000 booklets available in that period, the press release said.
Catholics serving in the military have for generations provided with similar booklets.
Posted May 12, 2014