New principal/CEO named at Catholic Central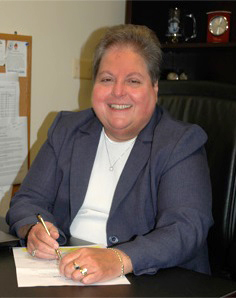 Official Release
Archdiocese of Cincinnati
Karen Juliano, Ph.D., has been named Principal/CEO of Catholic Central School in Springfield, effective July 1. The Most Rev. Dennis M. Schnurr, Archbishop of Cincinnati, made the appointment following a national search and the affirmation of the Principal Search Committee.
Juliano is lifelong Catholic educator with extensive experience in school administration. Since 2011, she has served as the President of Raritan Bay Catholic Preparatory School in South Amboy, NJ. Juliano began her career as a math and religion teacher at the high school level. She later became Principal at Holy Rosary Academy in Louisville, KY, serving 1990-2002. She was hired as Principal of DeSales High School in Geneva, NY, in 2002, serving until 2005, and was President of the Academy of Notre Dame in Tyngsboro, MA, 2005-2010.
As President and Principal, Juliano has been instrumental in forming and implementing a vision for the future in her schools," said Jim Rigg, Superintendent of Catholic Schools for the Archdiocese of Cincinnati. "She has worked hard to build quality in the classroom, while communicating and building support from supporters and alumni. She is a woman of deep faith who has accepted a lifelong vocation to leadership in Catholic education. I am very pleased to be taking advantage of Dr. Juliano's abundant talents at Catholic Central."
Juliano holds a bachelor's degree in mathematics from Regis College, a master's in secondary dducation from Boston College, and a doctorate in educational leadership from Spaulding University. For many years, Juliano has been a featured speaker at the Catholic Education Law Symposium, an annual conference sponsored by the National Catholic Educational Association.
At Central Catholic she will succeed Peter Dunlap, who has been Catholic Central's Principal/CEO since July 2013.
"I wish to thank Mr. Dunlap for his service to Catholic Central over the past two years, and wish him well in his future pursuits," Rigg said.
The Roman Catholic Archdiocese of Cincinnati is the 38th largest Catholic diocese in the country, with almost 500,000 Catholics, and has the sixth largest network of Catholic schools in terms of enrollment. The 19-county territory includes 212 parishes and 113 Catholic primary and secondary schools.
Posted May 20, 2015