Obituary: Sister Ann Catherine Merkle, CPPS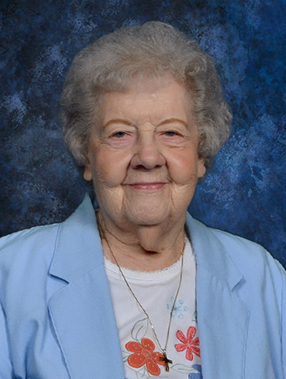 A memorial Mass for Precious Blood Sister Ann Catherine will be held at the Salem Heights chapel, 4960 Salem Ave., Dayton, Ohio on Thursday, January 25, 2018 at 10:30a.m. Visitation in chapel begins at 9:00a.m. followed by the Sharing of Memories at 10:00a.m., immediately preceding the Mass. Sister died at the Maria-Joseph Center in Dayton, Ohio on Tuesday, January 23, 2018. At age 94, Ann had been a Sister of the Precious Blood for 72 years.
Fourth in line of five children, Ann Catherine was born on November 22, 1923 to Robert T. and Luella M. (Link) Merkle in Dayton, Ohio. On August 12, 1945 at the age of 22, she formally entered the Congregation of the Sisters of the Precious Blood. In Religious life she was given the name Sister Mary Imelda and later returned to using her baptismal name. "Being a member of the Congregation," wrote Ann, "means sharing the gifts that God has given so generously to me…"
From the beginning, Sister Ann Catherine served 30 years as an educator of children in grade schools in St. Joseph, Mo.; Rensselaer, Ind.; Falls Church, Va.; Manteca, Calif.; Mesa and Phoenix, Ariz.; Dayton, St. Marys, and Millville, Ohio. Later she became a religion educator serving in parishes in St. Henry, Toledo, St. Marys and Ottawa, Ohio. From 1990 to 2001 Sister served others as a pastoral minister in Dayton, Ohio, including part-time ministry to her Precious Blood Sisters at Salem Heights. With zest for life, Sister always put her all into everything she did.
In 2001 Ann retired and did volunteer ministry at Twin Towers and later at Salem Heights in Dayton. Failing health problems in late 2017 brought her to Maria-Joseph Center from where God chose to call her home.
Preceding her in death were her brothers, Charles Robert and James Edward and her sister Marie Angela Glaser. Ann Catherine is survived by her Precious Blood Community of Sisters, her sister Rosemary Dillon and nieces and nephews.