On Catholic education: Seek the Lord for August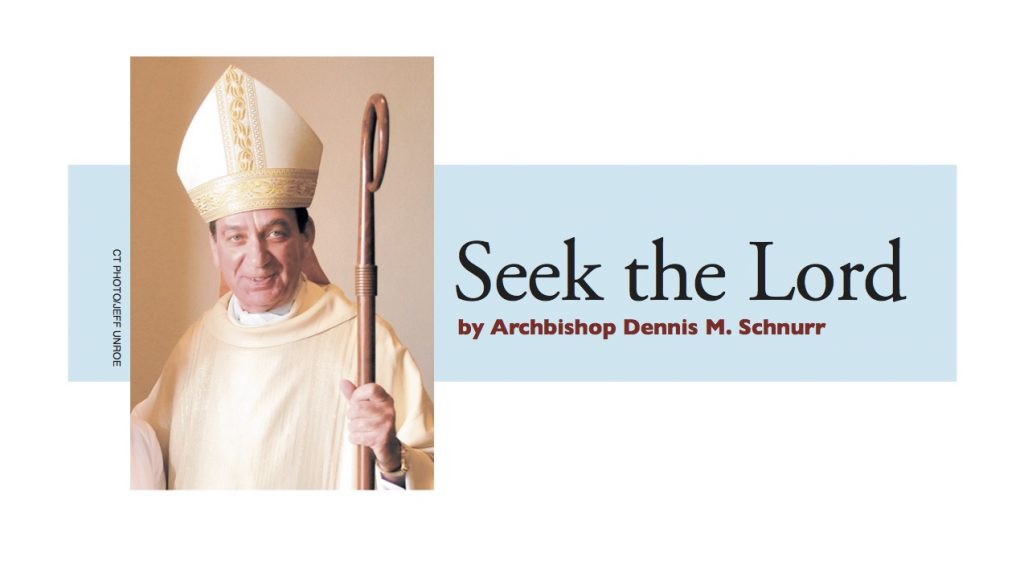 "In what might be regarded as the domestic Church, the parents, by word and example, are the first heralds of the faith with regard to their children."
     In this passage from the Second Vatican Council's Dogmatic Constitution on the Church ("Lumen Gentium"), the Church teaches that parents have the primary responsibility to pass on the faith to their children. They do so principally by modeling the faith themselves, while also encouraging their children to pray and to develop their own relationship with the Lord.  
     This is a serious obligation, and a difficult one. Fortunately, Catholic schools and Parish Schools of Religion – while they can never replace the critical parental role – offer crucial support for parents. Bishop Edward Fenwick, first Bishop of Cincinnati, started a school for young women in 1825, just four years after the foundation of the diocese. Almost 200 years later, the Archdiocese of Cincinnati has the fifth largest network of Catholic schools in the country in terms of enrollment. 
     Later this month, the 111 Catholic schools in the Archdiocese will open their doors to more than 40,000 students. Most of these schools prominently display a sign that says, in part: "Be it known to all who enter here that Christ is the reason for this school." The truth of this declaration is demonstrated by the way it is lived out daily in Masses, Adoration of the Blessed Sacrament, retreats, and loving service to the community.  
     Our schools educate students for life and prepare them for eternal life. When I answer questions from high school students around the Archdiocese via teleconference each year during Catholic Schools Week, I always find them to be bright, articulate, insightful, engaged, inquisitive, caring, and ready to contribute their gifts and talents to the Church now.
     While our Catholic schools are open to students of any faith or no faith who accept our  policies,  the schools are still Catholic. Teaching in a Catholic school, therefore, has long been recognized as a ministry even for those who do not teach religion classes. St. John Baptist de la Salle, who founded schools for the poor in France in the late 17th and early 18th centuries, was very clear about this. In a meditation for his teachers, who were lay, he wrote: "In your teaching, the [children] in your charge must see by the way you teach that you are true ministers of God, full of true charity and sincere in carrying out your task."
     Demographics and economics have put severe strains on Catholic education around the country. The financial sacrifice demanded of parents, and of parishes operating a school, is greater than ever. For that reason, half of the funds raised by the Archdiocese's highly successful One Faith, One Hope, One Love capital campaign are going to support Catholic education. Thanks to the generosity of so many, we were able to offer more than $2 million in tuition grants to more than 2,000 students for the 2017-18 school year.    
     Catholic parents who cannot, or choose not to, send their children to Catholic schools can still find assistance in their
local Parish School of Religion.  I am grateful to parishes that sponsor these excellent programs, and I thank the religious education teachers who give generously of their time and talent to advance the teaching ministry of the Church. 
     As we prepare to begin the 2018-19 school year later this month, it is good to reflect on our Catholic faith as more than just an academic subject. One's relationship with Christ does not take the summer off, nor does it end when a student graduates from his or her last Catholic school. And even when there are no classes, parents are still teaching their children.