On #GivingTuesday, consider donating to a Catholic cause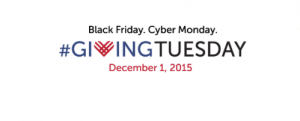 Today (Dec. 1) is #GivingTuesday.
The week after Black Friday and a day following Cyber Monday, two of the biggest shopping days of the year, there is now a day to give instead of take. Invented four years ago by a cultural center in New York City #GivingTuesday is a global day of giving and philanthropy.
According to GivingTuesday.org, the social media-fueled campaign hopes to "harnesses the potential of social media and the generosity of people around the world to bring about real change in their communities."
Some dioceses, such as the Archdiocese of New Orleans, have launched a crowd funding operation to take advantage of the day's popularity with an #IgiveCatholic campaign to fund local ministries.
The Archdiocese of Cincinnati is engaged in raising funds for ministry year round. CLICK HERE to visit the Archdiocese of Cincinnati "Ways to Give" page to learn more about Catholic organizations to support or to donate to your parish through the E-Giving portal.