Archbishop dedicates archdiocesan archives (Video tour)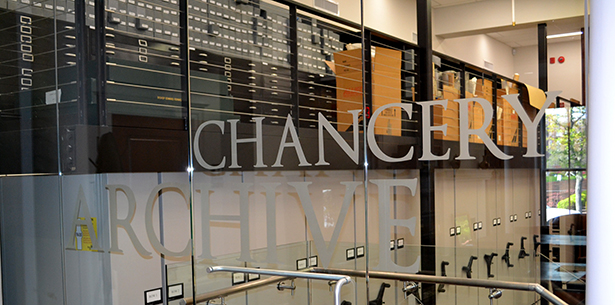 Staff Report
Where can you find a sick call box of Archbishop Elder's, a hat worn at the Second Vatican Council by Archbishop Alter and the handwritten journal of Archbishop Purcell? The Chancery Archives of the Archdiocese of Cincinnati includes these treasures and more.
See video below 
On May 19 the archives were opened to selected personnel in an open house style event to showcase the newly renovated building. Archbishop Dennis M. Schnurr blessed and dedicated the archives. A video of the blessing and tour of the building follow this article.
Key people responsible for the building's renovation, members of the archdiocesan central offices, local media and others, including Archbishop Emeritus Daniel E. Pilarcyzk, were on hand for the dedication. The archives are open to scholars on a case by case basis. At this time, it is not open for genealogical research. The archives, previously located in a building not owned by the archdiocese, had been closed for roughly two years.
Last January, the archdiocese hired Sarah Patterson to be full-time archivist.
Now located at 25 E. 8th Street, the Chancery Archives contain everything from priceless relics to sacramental records to financial reports. The archives also include every edition of The Catholic Telegraph, beginning with Volume 1, Issue 1 published Oct. 22, 1831 onward.
The building, erected in the 1850s and was initially a private residence. It later became The Literary Club and was purchased by the archdiocese in 1943. It 1944 it was called Chancery Hall.
According to Patterson, the building was used as a Catholic Lending Library, meeting room, etc. The Daughters of St. Paul operated a bookstore in the building from 1974 until 1983. The archive building's most recent use was for broadcasting a television Mass but it has sat mostly empty in recent years.
Check out the video below to see the blessing and dedication by Archbishop Schnurr, a video tour of the facility and photos from the May 19 open house.
Posted May 22, 2015