Photo Friday: Lehman students take the plunge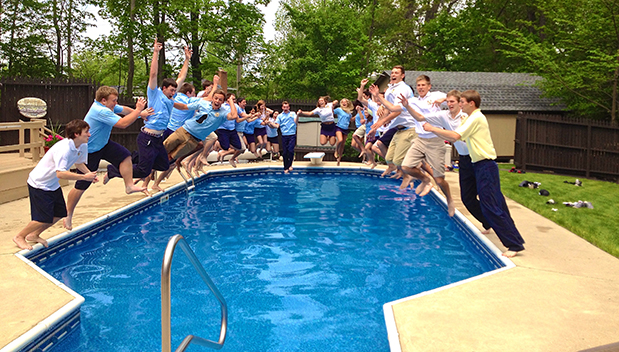 Staff Report
Seniors from Lehman Catholic High School take the traditional plunge after their final day of exams on Monday. The class of 2015, fully clothed, jumped into the pool of  Scott and Kristy Sherman of Sidney. Their son, Dylan, is a graduating senior. 
The plunge is a long awaited day in Lehman Catholic Cavalier tradition.
Seniors joined Friday morning with the underclassmen for Senior Awards and Recognition.  Baccalaureate will be held at Holy Angels on Friday, May 22 at 7 p.m. Commencement exercises will be Sunday, May 24 at 2 p.m. at Lehman Catholic High School.
Previous Friday Photos
Cinco de Mayo
Welcome to Friday Photo. A post where The Catholic Telegraph staff select an image that shows the vibrant life of the faith community in the Archdiocese of Cincinnati, and around the world. To submit a photo for consideration, email John Stegeman with "Friday Photo" in the subject line.
Posted May 21, 2015