Parish with historic ties to Polish community celebrates St. John Paul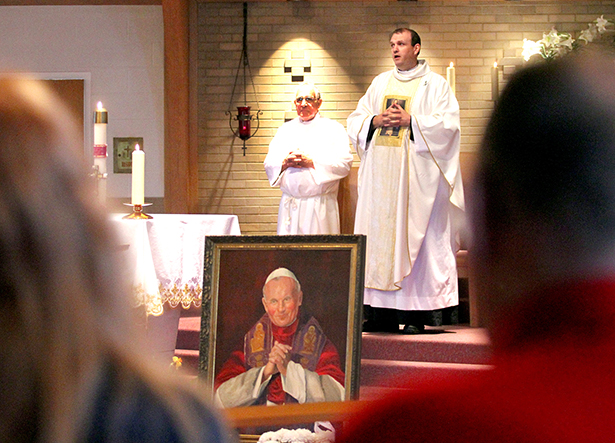 Staff Report
At St. Adalbert Parish, founded in 1903 to serve the Polish Catholic community in Dayton and vicinity, Pope John Paul II's canonization had special significance, said Father Eric Bowman, pastoral administrator. The parish celebrated a special Mass, featuring songs and scripture readings in Polish, followed by a reception.
The reception featured an exhibit about St. John Paul and a portrait of him was on display during the Mass. As Saint John Paul and Saint John (former Pope John XXIII) were canonized on Divine Mercy Sunday, a feast John Paul initiated, Father Bowman wore a vestment featuring the Divine Mercy image. The image is based on a 1931 vision by Saint Faustina Kowalska.
Pope Francis canonized the two former popes on April 27 during a Mass concelebrated by Pope Emeritus Benedict XVI.