Pope to send envoy to Christians forced from their homes in Iraq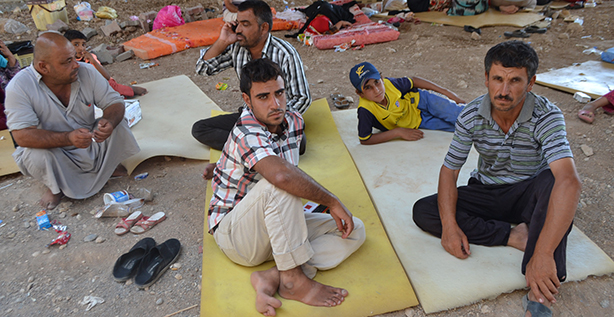 By Cindy Wooden Catholic News Service
VATICAN CITY — Given the "grave situation in Iraq," Pope Francis has asked Cardinal Fernando Filoni to travel to the region to meet church and government officials, but especially to meet Christians chased from their homes by militants of the Islamic State.
Jesuit Father Federico Lombardi, Vatican spokesman, said Aug. 8 the pope chose Cardinal Filoni, prefect of the Congregation for the Evangelization of Peoples, for the mission because of the experience he gained in the region as nuncio to Iraq in 2001-2006.
The cardinal "was the only diplomat to remain in Iraq" when the U.S.-led coalition invaded in 2003, which demonstrates his "dedication and notable courage," Father Lombardi said.
The same day, Pope Francis sent a request through his @Pontifex Twitter account: "I ask all men and women of good will to join me in praying for Iraqi Christians and all vulnerable populations."
Announcing Pope Francis' decision to send Cardinal Filoni to the region, Father Lombardi said it was "too soon to say when he will leave and exactly where he will go," but the cardinal definitely will not be joining Pope Francis for his visit to South Korea Aug. 14-18.
The cardinal, Father Lombardi said, "will try to meet the people most affected" by the early August advance of Islamic State fighters through the predominantly Christian villages of Ninevah province in northeast Iraq. The fighters reportedly forced tens of thousands of Christians from their homes overnight Aug. 6-7.
Many of the displaced, along with many who were forced from Mosul in late July, have sought refuge in Iraqi Kurdistan, which is where Cardinal Filoni hopes to go, Father Lombardi said.
In addition to his meetings, the spokesman said, Cardinal Filoni will take a financial donation from Pope Francis to help the displaced.
The cardinal told Vatican Radio his assignment was "a gesture that shows the pope's concern for the situation of these Christians who are suffering."
Cardinal Filoni said organizing the trip would take some work "because it is not easy to reach." He said he was not frightened of making the trip and was confident the logistics would come together so "I can see how I can be close to these people for a time."
Reminded that Chaldean Patriarch Louis Sako of Baghdad had said Aug. 7 that the Christians were facing "a human catastrophe and risk a real genocide," Cardinal Filoni said, "Patriarch Sako is there and so he knows very well" what is happening.
The pope has asked the nuncios to all the countries in the region to speak with their host governments about the plea for peace he made Aug. 7 and to ask local Catholics to pray for their neighbors, Father Lombardi said.
In the appeal, the pope asked "the international community to take initiatives to put an end to the humanitarian drama underway, to take steps to protect those involved and threatened by violence and to ensure the necessary aid for so many displaced people whose fate depends on the solidarity of others."
Pope Francis also is organizing a meeting at the Vatican of the nuncios to all the countries in the Middle East, Father Lombardi said. The meeting probably will take place in early September, "because right now it is more urgent that Cardinal Filoni go."
Posted Aug. 8, 2014